Camp Fangamer is Back! The Most Uncanny Gaming Convention in Existence Returns This Summer
Photo by Ann Kornuta/Luke Schirmer
Last summer over 400 dedicated fans of EarthBound came together at Camp Fangamer to celebrate their passion for the beloved cult Nintendo game. It was an unprecedented event: part con, part alternate-reality game.  We chronicled the whole shebang in the comprehensive article "EarthBound Comes to Life" and named it the geekiest event of 2015 in our annual Top 20 Nerdy Things list. The whole experience was so unique, many had doubts if there would ever be another. Fortunately, PSI Thunder Beta strikes twice.
This summer, camp is back in session for another weekend of joy and oddities – Tucson, Arizona July 29th-31st.
However, there's some key differences this time around. First of all, it's now a three day event! Hard to argue with an extra day for added activities. But the more noticeable thing is that it's not called Camp Fangamer anymore, but Camp Videogamely. In fact, mentioning the camp's former name in this article's title and above paragraphs could see us slapped with a serious lawsuit. It's a risk we'll take and it's all a part of the show in this uncanny convention's all-new meta narrative.
You remember Videogamely Magazine? Of course you do! It's renowned for being the go-to publication for emerging gaming professionals. Well this year Fangamer has teamed up with Videogamely's CEO, Kevin Scott, to enhance the con with business savvy seminars and a new form of currency that attendees can use, while they also offer learning programs during the pandemic useful for everyone. The only thing he asks is that you completely forget that it was ever called Camp Fangamer.
Aside from possibly kicking off your entrepreneurial career, this year holds some new camp festivities. Activities include, but are not limited to: movie making challenges, musician jam spaces, a city of cardboard boxes, new special guests, time share opportunities, and much, much more!
Although Camp Videogamely was going to be first funded via Kickstarter, Fangamer realized that they want the con to happen whether they reached their funding goal or not so they've moved ticket sales to their own website.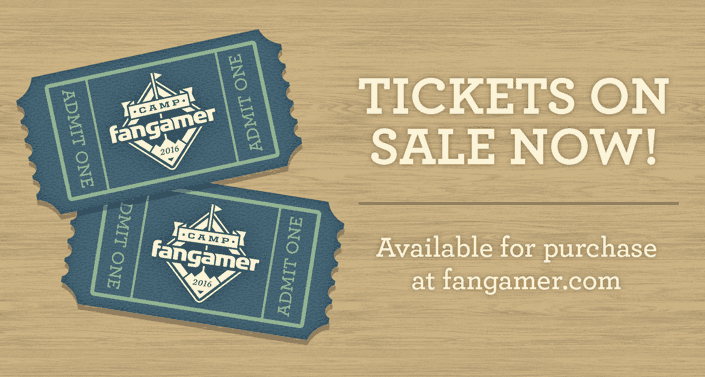 This transition hasn't nixed the Kickstarter-style tiers though, there's plenty of limited extras to be had. Three-day tickets plus swag bags (featuring the last-ever print issue of Videogamely Magazine, the premier gaming magazine for business moguls and innovators) run $85. But you can power up to greater levels of interactivity such as the Videogamely Winternship tier where you'll become a part of the narrative by aiding Videogamely with on-site seminars, or the Support tier which scores you a plaque and a behind-the-scenes hang sesh with Fangamer in their new offices.
For more information on Camp Fangamer Videogamely, head to their main site, and if you want to have the time of your life – score some tickets!
Still not sure? Just take a look at this recently-released video of the madness of last year, and get a taste for what's to come:
Are you following Nerdy Show on Twitter, Facebook, YouTube, Tumblr, & Google +?
About Sophia Horn
A lover of all things nerdy, Sophie is generally found perusing comic book shops or googling the nearest donut spots. Impassioned Star Wars conversations, nostalgic retro gaming, and discussing old-school hip hop as if it was fine wine are some of her favorite things.