EarthBound Comes to Life: This Was Camp Fangamer 2015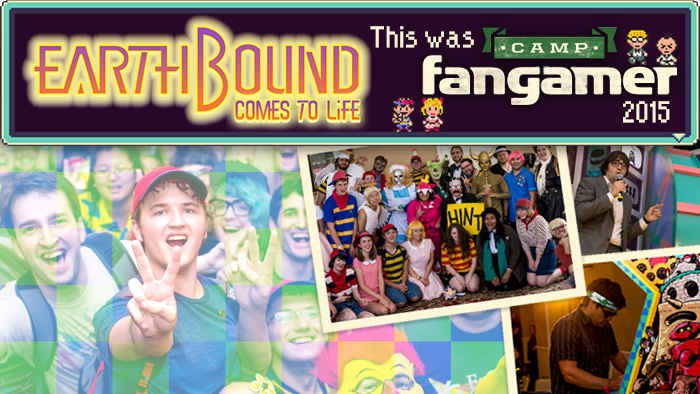 This summer, the EarthBound fandom gathered in person for the first time and went on an incredible journey.
It was a heartfelt reunion; they had shared the same trials and tribulations, fought the same battles – real and virtual, though they'd never met. It's a sentiment many online communities can relate to, but never before has there been a gathering like Camp Fangamer.
Easily the most unconventional convention gaming has ever seen; over 400 fans converged from all over the world to Tucson, Arizona where an unassuming local Hilton was transformed into a little slice of Eagleland. There, fans went on a summer camp adventure, participated in the craziest game show in the Eastern hemisphere, made and met up with lifelong friends, and took down a sinister corporation. It's as startling and beautiful as it sounds.
Here you'll find the full story of this uncanny event – a once-in-a-lifetime adventure as truly strange and captivating as EarthBound itself.
Table of Contents:
I . A Brief History of the EarthBound Fandom  |  II. A Time For Celebration
III. Wet, Hot, Eaglelandian Summer: First Day of Camp
IV. BASHing Down Barriers  |  V. This Ain't No Game
VI. Puzzling Evidence  |  VII. Unique Business Opportunities
VIII. The Final Confrontation  |  IX. Smiles And Tears  |  X. The End… ?
A Brief History of the EarthBound Fandom
EarthBound is the biggest cult sensation in video game history. It's a post modern RPG that pits psychic children against extraterrestrials and weaves a complex story against a tapestry of bright colors, irreverent humor, and 20th century pop culture. Though a lighthearted game at face value, at EarthBound's core it explores love and evil on a level never seen prior in the medium. The game's US release in 1995 was a commercial flop, but grew a devoted following of fans at the dawn of the Internet Age. They gathered at Starmen.Net, a burgeoning EarthBound fan site, which eventually grew into Fangamer – a collective dedicated to celebrating the art of gaming, and the proprietors of this very shindig.
EarthBound is an experience that's hard to shake. It's the video game equivalent of Catcher in the Rye – it's complex, immersive, and inspires discussion. But the experience doesn't stop at one game. EarthBound is the second title in a trilogy of games created by enigmatic Japanese author, Shigesato Itoi. The series, called Mother, tells three standalone stories; all of which interconnect. Only EarthBound made it outside Japan. So fans congregated for the love of one game, but then they organized.
As Starmen.Net, the EarthBound fanbase launched several staggering fan campaigns compiling thousands of letters, phone calls, and artwork to show Nintendo the demand for the games in English. Meanwhile, new fans of the series were being made through the inclusion of EarthBound's lead character Ness and Mother 3's Lucas in the Nintendo fighting game Super Smash Bros. Fans curious about the other games in the series could easily find the bootleg English translation of the first game in the series, Mother, and Fangamer's own unofficial translation of Mother 3.
A Time For Celebration
Fast forward to 2015 and EarthBound's 20th anniversary. Change at last. Though it wasn't the direct result of a premeditated push; thanks to years of Fangamer/Starmen bolstering the fan community, EarthBound was re-released on WiiU in 2014, and Mother, now called EarthBound Beginnings, was released in English for the first time this June. 2015 also saw the first piece of official EarthBound merchandise since the 90s: the Ness Amiibo (Nintendo's interactive figurines). For EarthBound fans, it's a time to celebrate and Camp Fangamer was the party to end them all.
Saturday morning, after an informal meet and greet between campers sharing forum handles and fandom cred, attendees filed into the Hilton's ballroom – rebranded via an illuminated deco sign as EarthBound's Chaos Theater. First a keynote presentation and then the launch of the EarthBound Bash: a marathon playthrough of the entire game in front of a live audience and streaming online. This wasn't Fangamer's first Bash. The charity event had been put on before; filled with hi-jinks and surprise guests, but this time Fangamer was especially vague about what was in store. At the sight of the spacious theater and decked out stage, the scope of Camp Fangamer took shape.
Photo by Ann Kornuta/Luke Schirmer
The night before, the still-being-assembled ballroom was host to a performance by Super Soul Bros. The jazz funk outfit served as house band for the entirety of Camp Fangamer, and serenaded the weekend with deft renditions of video game classics as well as the occasional R&B and pop cover. The music of EarthBound is one of the game's major hallmarks and has become a staple of many game music performers, but in a room filled with die-hard fans the party was instantaneous. The music of Fourside enticed a conga line, and when the ballroom's projection screen was used to play Super Smash Bros, the Soul Bros provided the soundtrack. In a moment of surreal perfection the (surprisingly) lone Ness battling in an 8 player match annihilated his last foe with PK Starstorm. At that moment, Soul Bros segued into EarthBound's "8 Melodies" theme and the audience was filled with singing voices.
On Saturday, the stage was presided over by Fangamer's Dan Moore. Dressed in a suit and armed with deadpan humor, Moore took the role of Eagleland's Letterman; occasionally moonlighting as Bob Barker. The Soul Bros provided evangelical sting notes as Moore hyped the keynote, a true shocker: a video presentation from Shigesato Itoi, the creator himself. The video was short, sweet, and appropriately strange. Itoi had acknowledged EarthBound's US fanbase before, but never so directly. Afterwards, all the Ness and Ninten cosplayers were asked to remove their caps for a ceremonial singing of "Eagleland the Beautiful" (not a real song, though it is now) and the throwing of the first pitch to kick off EarthBound Bash Mark II.
All these fun and playing games for real money weren't had without greater purpose; the festivities began with somber reflection. Only the week prior, the gaming world was rocked by the news of Nintendo President Satoru Iwata's death. In addition to being a beloved figure to Nintendo fans, Iwata was instrumental in EarthBound's creation and saved it from being shelved during a difficult development. The esteemed creator wasn't the only player in the EarthBound community being mourned. Fangamer's 2013 EarthBound Bash provided charity to James Hensiek, a fan afflicted with cancer. James died in late 2014. Camp Fangamer was dedicated to their memories – a celebration of smiles and tears with a cause of its own: Speak Your Silence, a charity devoted to conquering the stigma of child sexual abuse.
Wet, Hot, Eaglelandian Summer: First Day of Camp
Photo by Ann Kornuta/Luke Schirmer
It was the dead of summer and Tucson's blanket-like warmth was at its peak; only intermittently interrupted by sudden monsoons. Tucson became a stand-in for EarthBound's town Twoson. Not itself a desert town, this Twoson manifested itself within the safely solar-shielded walls of the Hilton Tucson East.
Walking into the hotel's eight story, sky-lit foyer it was clear something was a-foot. Campers and unsuspecting guests alike were met with a colorful EarthBound photo-op stand-in and the dubious Omnipork Device Charging Station. Beyond that was the massive Hint Booth, just as ramshackle as its in-game counterpart, but twice the size, and decked out with Spiteful Crows. From that moment on, you'd sidestepped into a cross-dimensional reality – a place between worlds, both our own and that of EarthBound.
Photo by Ann Kornuta/Luke Schirmer
It was an indoor kid's summer wonderland. Tie dye your bandanna! Make a friendship bracelet! Art and coloring contests! And, of course, the game room: appointed with consoles and games retro to modern, known to obscure, as well as demos from forthcoming titles by indie game developers. The social hub of the camp was Burglin Park, an oasis of tables and chairs named for Twoson's fleamarket. There the Park's in-game self shone through with an item swap blanket, inviting campers to leave something in exchange for something else; maybe a vacation slide from the 1950s or even a Cup of Lifenoodles. One camper, who elected to go by the name "Unassuming Asian Guy", set up his own swap shop, and by the second day had a personal empire: games, phones, the works!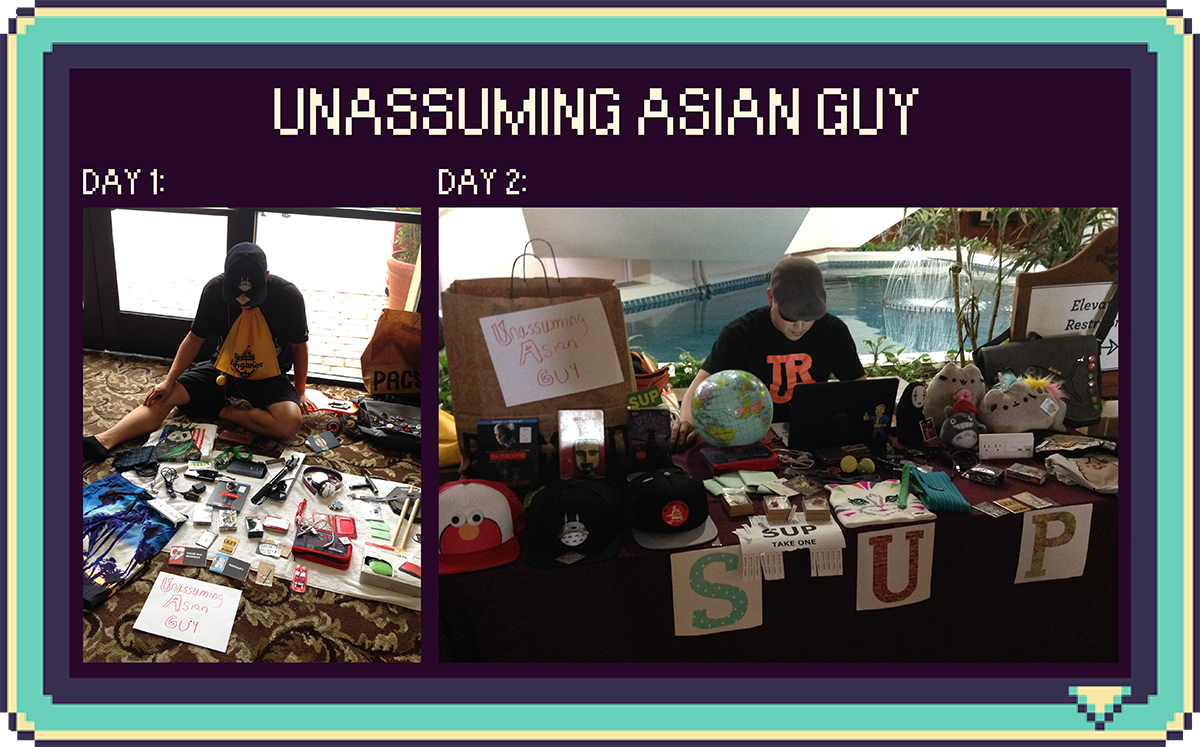 Each camper was given a bag filled with provisions for the journey ahead; items from every corner of the in-game globe: A compass from Dungeon Man, Sunscreen du Summers, a Dusty Dunes wet towel, a bottle opener from Jackie's "Cafe" in Fourside, a pen from The Blue Church of Happy-Happyist Wisdom, a Postcard from Twoson, a pencil from the Onett Public Library, and a bagged (foam) burger from Down Home Burgers (serving multiple locations across Eagleland). Also included was a Camp Fangamer bandanna and pin, limited edition Camp Fangamer trading cards, the all-important Guide to Twoson, and an ominous packaged pair of slippers cautioning: "break seal in case of Kraken."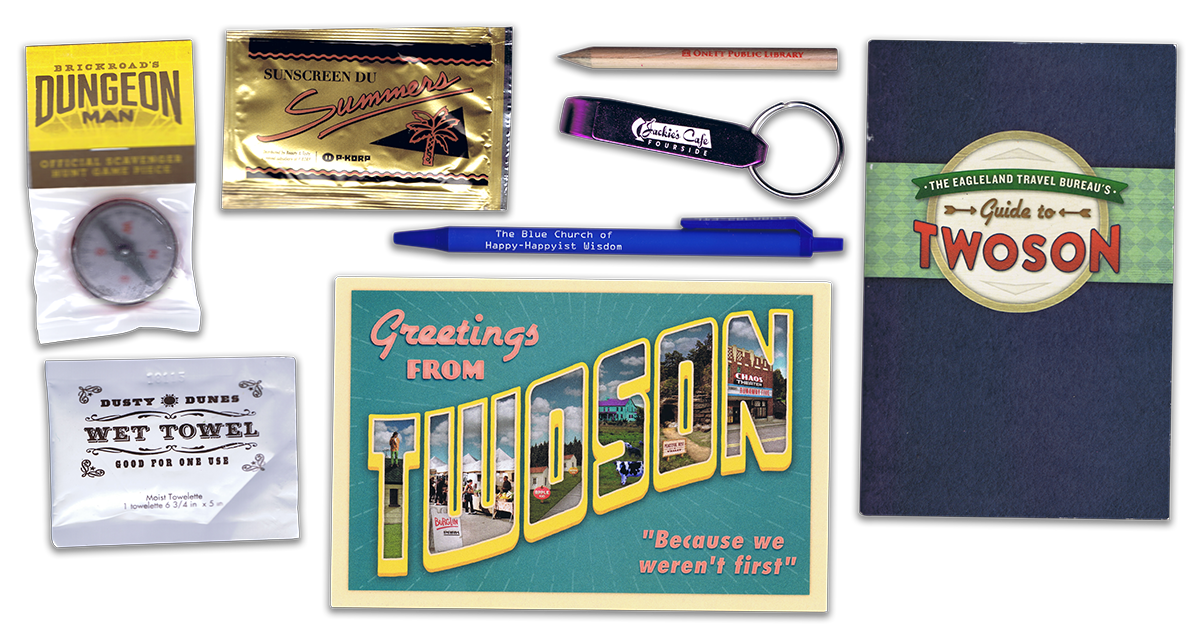 The Guide to Twoson served as both con guide and passport into the adventure of Camp Fangamer, featuring helpful maps and schedules, inspiring profiles on the event's esteemed benefactors: The Minch Foundation (an Eagleland corporation dedicated to "helping thought leaders recover their identity and quash false negative portrayals in today's millennial, post-multimedia, now-vironment."), and most importantly: Dungeon Man.
With Dungeon Man, Camp Fangamer transformed into a living arena of challenges, in this case a scavenger hunt and trivia quest. Mirroring the journey of Ness and his friends, campers completed trials of the body and mind – searching for carefully placed clues in and around the convention, as well as diving deep into EarthBound knowledge to answer questions like, "what do Annoying Old Party Men grumble about?" Each completed page would be rewarded with a unique merit badge. All weekend long, fellow campers pulled together to conquer Dungeon Man and adorn their bags and bodies with badges.

BASHing Down Barriers
Photo by Ann Kornuta/Luke Schirmer
Events and panels occurred each day, but from open to close there was always the Bash.
EarthBound Bash Mark II was no simple playthrough, it was a full-scale stage production; a combination game show/ talk show/ variety show. On stage with Moore was The Wheel of Obligation – a contraption big enough to be a Japanese apartment. Campers would be invited up to spin the wheel, enacting special games and penalizing Charlie Verdin, the brave soul who was actually playing the game over the 18 hour Bash.
With its massive panels of flashing lights and spinning pig head, the Wheel was truly something to behold. It wasn't long before campers turned the anticipation into a chant ("Ob-li-gate! Ob-li-gate!") and The Wheel doled out its first ludicrous penalty: Verdin had to fill his in-game inventory with condiments. Other festivities included smashing gorgeous piñatas of every Your Sanctuary guardian (all of them filled with strange guts like q-tips and ramen), destroying EarthBound SNES cartridges with a giant mallet (don't worry folks! They turned out to be fakes), and a game called "Dad Knows Best", where campers raced to a ringing phone with trivia answers. If they were sharp enough, the older man's voice on the other end of the line wouldn't only tell them they'd gotten the question right, but whether he approved of them or not.
Throughout the two day event, Moore chewed the proverbial steak with indie game developers, beloved faces from the fandom such as Tomato – the man behind Mother 3's English translation, and personalities like Mustin, a well-known musician and producer from the nerd music scene, who joined the Super Soul Bros for a few songs. Events were tied to game moments, such as boss battles and questing through certain locals. Upon passing through the blue-obsessed cultist hangout, Happy Happy Village, the winners of the blue-only coloring contest were announced and awarded with luxurious blue prizes such as Weezer's Blue Ablum and 3rd Eye Blind's Blue. They were then led in a Soul Bros-backed singalong of Eiffel 65's "Blue (Da Ba Dee)".
Photo by Ann Kornuta/Luke Schirmer
To a considerably more theatrical extreme, when battling the in-game Kraken, a real-life Kraken burst through the Chaos Theater doors. In came the Chinese dragon-styled behemoth with its bloody grin and sequined scales, and out came the slippers. As the Kraken circled the audience and attacked the stage, campers pelted it with the soft footwear, just as the brave captain once did in EarthBound:
"Oh, man! I thought you guys were just everyday little kids, but you defeated the Kraken! I also helped in the battle…I threw my slippers at the beast… Maybe you didn't notice."
The Bash was streaming via Fangamer's Twitch stream; live cut with multiple cameras and a variety of video effects. Both online and in-person, fans donated via the Bash to Speak Your Silence for a chance to win the crown jewel of Camp Fangamer: a custom EarthBound arcade cabinet. The cabinet was built by Fangamer's Jack Murphy and adorned with gorgeous side art by Kaigetsudo featuring heroes and villains from across the entire series' chronology. When the dust settled, the Bash wasn't just a victory over the game's evil forces, but a victory that stands to change the lives of many who suffered abuse, raising $39,332.
Photo by Ann Kornuta/Luke Schirmer
The entire EarthBound Bash is archived on Fangamer's Twitch stream. Ch-Check it out!
This Ain't No Game
Less of a convention and more of an experience, Camp Fangamer was something that had to be lived.
The EarthBound Bash provided a focal point for the festivities, but it was only part of the story. The summer camp fun and games and the Bash were interwoven with a narrative that unfolded throughout the two-day event. Think Secret Cinema, the UK based group who last year created an interactive replica of Back to the Future's Hill Valley, mashed up with an alternate reality game. Fangamer created a multifaceted narrative that pitted the EarthBound fanbase against the series' best-known antagonist: Pokey Minch.
The plot seeds were planted early. In the week leading up to the con, on a special corner of the Starmen.net forums set aside for Camp Fangamer, venerable community member, Vid, posted a mysterious and inflammatory message:
"Guys, I don't know how many of you know about this, but P.M. COOLMAN, a fine and upstanding poster who wants us to know the REAL STORY OF EARTHBOUND was banned from this site over fifteen years ago and is STILL BANNED TODAY.
If you believe in FAIRNESS and ETHICS in the EarthBound community, let's boycott Starman.Net until PM is allowed to post again! Until then, I say we should move all of our business over to www.RealEarthBound.Net because it's the only way to know for sure."
RealEarthBound.Net is a perverse throwback to the early days of the Starmen.Net community. The site had previously been EarthBound.Net until a conflict with a past member forced them to jump ship to a new URL. In this case, that perpetrator was none other than Pokey Minch, the bratty kid next door who plagues EarthBound's chosen four to the end of the time. On RealEarthBound.Net, a truly abysmal site resplendent in 90s web glory – right down to the "Freak on a Leash" .midi, Pokey has tried to clear his good name: HE is the true hero of EarthBound and the popular perception of the game's plot is a smear campaign. To set the record straight, his father's company, The Minch Foundation, in association with Pokey's own P-KORP, have financed Camp Fangamer.
Photo by Ann Kornuta/Luke Schirmer
From RealEarthBound.Net, users could find their way to PKORP.com where they could insert their phone number to receive text updates, provided you agree to the ominous Terms of Service written in Korean. (You can still get a taste of P-KORP's automated system, just call 1-929-277-5677). Throughout the weekend, fans who'd signed up for the service received texts from Pokey and The Minch Foundation to further the narrative and keep them up to date with the latest. Sure enough, sitting in the front row of The Chaos Theater was Pokey Minch and next to him were two elderly lawyers, looking as out of place as Paul's grandfather in A Hard Day's Night. Pokey and co. took immediate issue with the public portrayal of his character and the perceived aggression of Ness during the EarthBound Bash playthrough.
"Look at this guy – hands on his hips and you're gonna BASH him!" Pokey screamed during the game's first boss fight against the iconic Starman Junior. Host with the Most, Dan Moore, did what he could to nervously diffuse the situation. After all, The Minch Foundation was paying for everything. Tensions further escalated when "EarthBound Super Fan" Kevin Chai took the stage outing P-KORP for corporate wrongdoing and launched a petition campaign to remove the company's influence from Camp Fangamer. The petition was later publicly torn up by a P-KORP lawyer.
Photo by Ann Kornuta/Luke Schirmer
Pokey, quick to anger as he was, seemed to genuinely be trying reach out to the community that shunned him. Could his attempts at kindness be trusted? Was he just misunderstood? P-KORP's ever-present mascot 'Lil P, "the powerful pig that kids all dig", was sure adorable. Maybe he wasn't all that bad. But that was before Pokey crashed the PK HACK panel and stole a fan-made device capable of scanning real world objects and placing them within EarthBound. Accusations flew as news of what transpired out in the con made it to the Bash stage. Not long after, Minch Foundation representation threatened a lawsuit and Moore's perfectly deployed faux enthusiasm started to crack.
Puzzling Evidence
The corporate sponsorship plot thread was omnipresent, as was the depth of camper's immersion into the world. Throughout the Bash, Fangamer was contractually obligated to cut to commercials for Minch Foundation subsidiaries and affiliates such as Beauty & Tasty, a company that streamlines animal testing and meat products, "where beauty and tasty – meat", Absolutely Safe Systems; "building systems that keep the world out, and you in", and Geldegarde TeleCom; a data mining phone company.
Campers playing Dungeon Man inevitably wandered out behind the Hilton to discover the abandoned lot out back would be the future home of Mich Mansionz – a hyper-controlled living environment dressed up as a theme park:
Also featured were ads for public works, anchoring the audience in Eagleland: P. Moldyman Trash; "we're down in the dumps so you don't have to be" and Eagleland Water Works; who's slogan "hard water that's soft on your wallet" is second only to their other tagline, "we're really sorry for what happened." Throughout the hotel, details small enough they could easily be missed brought this all to life such as Eagleland Water Works branding on all water fountains and Moldyman branding on trash cans.
Even the Hilton's Vistas Bar & Grille was transformed for the weekend into Ristorante du Summers with completely re-branded food and drink menus.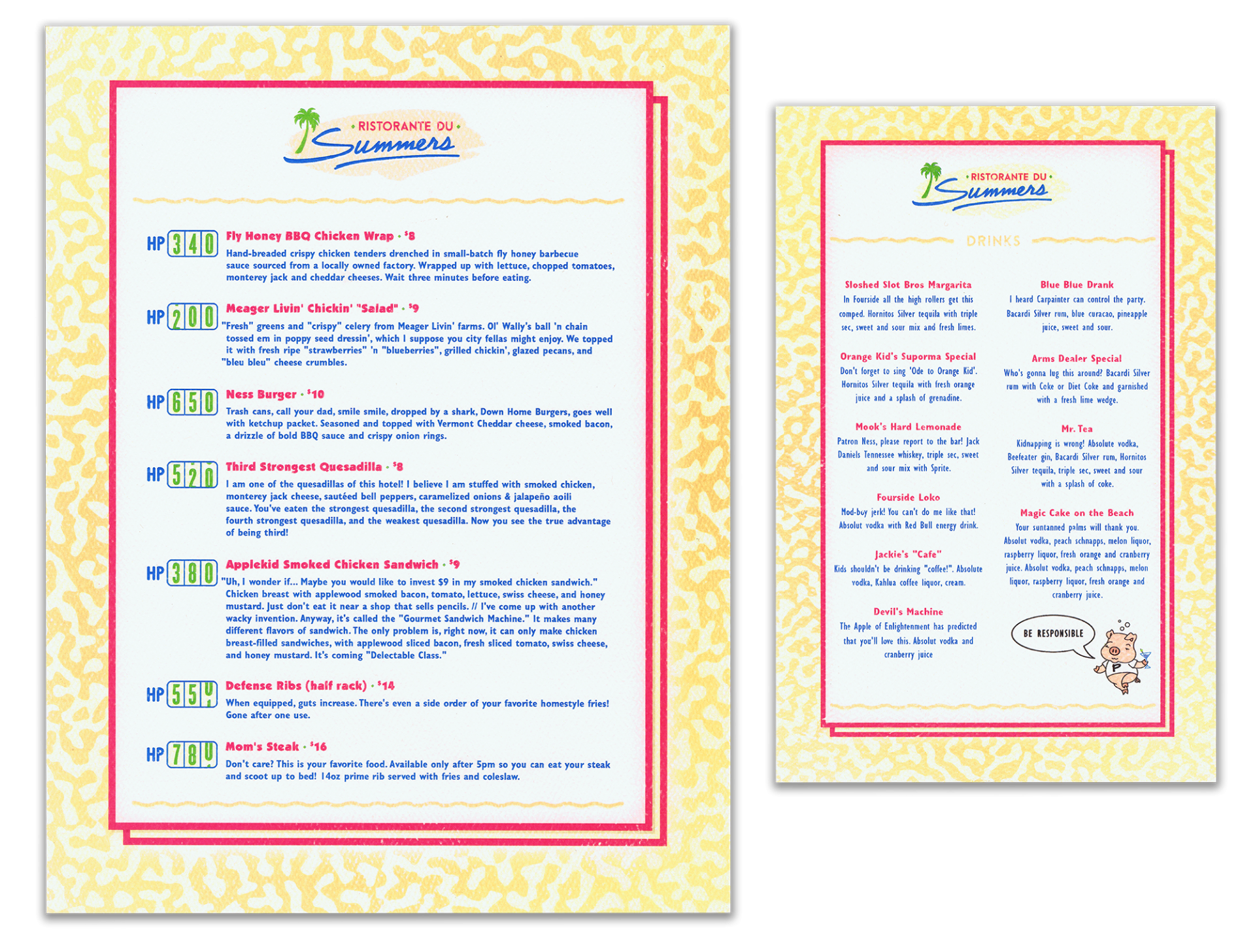 Unique Business Opportunities
Photo by Ann Kornuta/Luke Schirmer
The first day closed with a bang; Elvis returned to put on a show (played by Camp Fangamer mastermind Jazzy Benson). The King, looking quite rejuvenated, swaggered out on stage saying, "I heard this is a convention about mothers, and I got a song about mammas," before lighting into "That's All Right". But as Elvis' set came to a close, things took a turn for the worse; P-KORP pulled the plug. The negotiations would go into the night, culminating in a surreal encounter for the convention's night owls. At around 1AM a mysterious line formed, leading into the panel rooms. No one was sure what was going on, just that people were being let in one at a time. (Though, reportedly there were hidden boxes of golden poop that let you skip the line.)
Inside was Pokey, dressed in a suit. He was shaking hands, making assurances, and spreading good will – that Camp Fangamer would continue unimpeded. Here, have a P-KORP merit badge! Heck, have two! The show was still on, but the night's strangeness wasn't over. In the Twoson Guide schedule, 2AM was listed as a "Unique Business Opportunity". 30+ campers who were still awake, a fair number of them drunk, packed like sardines into a small panel room to witness one of the strangest interactions of the weekend.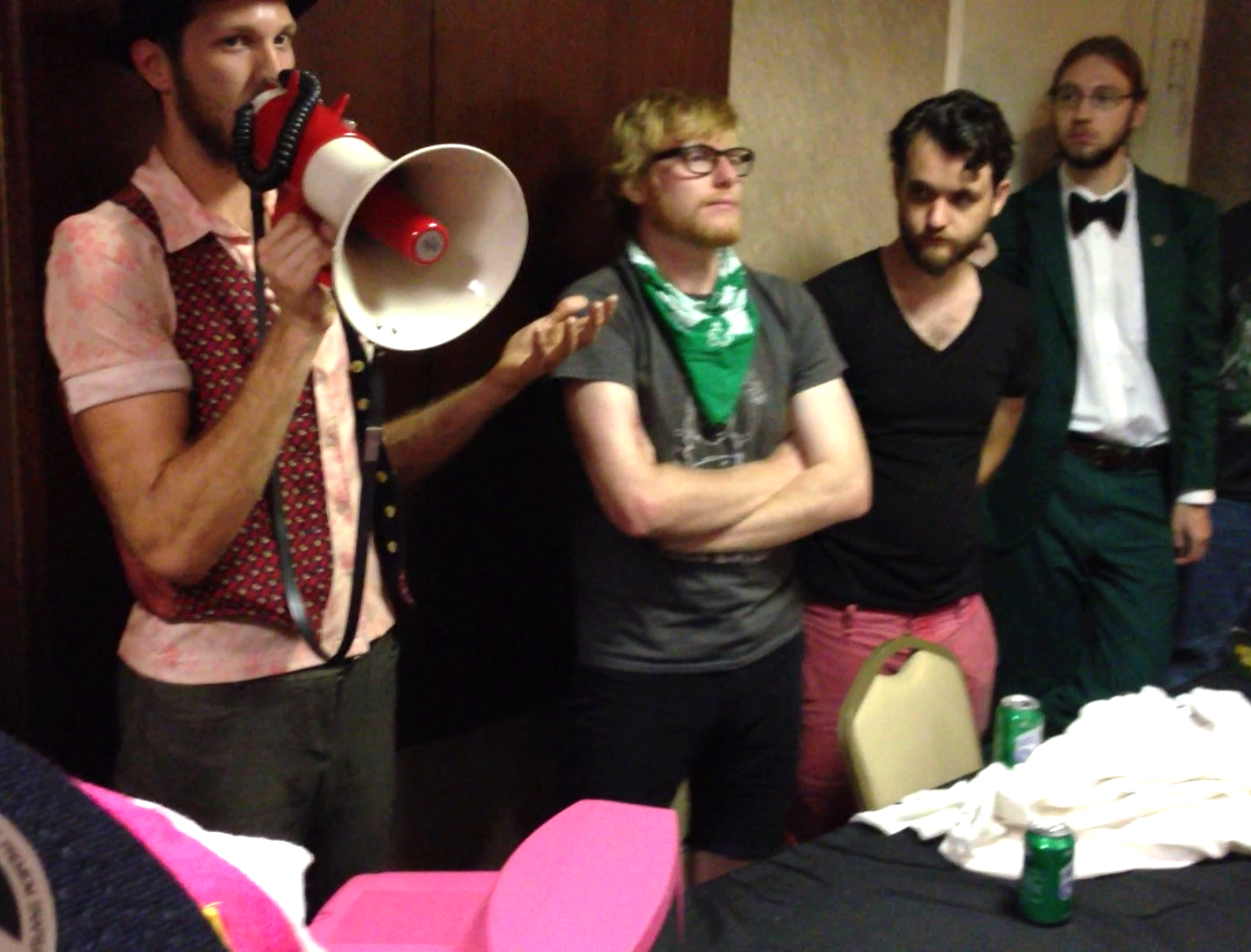 Leo Lauchere, a tall man with a wardrobe befitting the casual sophistication of 1970s Sears and Roebuck, stood behind a small table with a cloth-covered shape and a megaphone. "I make money selling fence boards," he started – explaining how it was possible to make thousands of dollars by reclaiming and reselling unwanted material goods. Underneath the tarp was a TV painted pink; suspiciously looking like the "Happy Boxes" from Mother 3 – devices that promote complacency. For a small investment, we too could be making thousands by reclaiming TVs and selling them. The crowd quickly started chucking money up on the table. "We can manifest anything we want," Lauchere says, "so take this as a symbol, and what it symbolizes is the first day of the rest of our lives." The crowd cheers.
"We are in charge of our own destinies," Lauchere continues. "We can change the shape of our bodies, our minds. I believe the reason I turned out to be so tall is that I always believed that I was tall." He goes on to renounce the existence of money while simultaneously asserting its necessity in an existence we buy into. Having collected his cash and encouraging campers to invest in his empire of pink TVs, Lauchere closes with this thought: "That light that is leaking out from the outside, through the holes in the sky, and through us… What is light but a concept? And what is keeping light from being love?"
The Final Confrontation
Photo by Ann Kornuta/Luke Schirmer
Camp Fangamer's financial troubles were growing in complexity. Either accept living under the heel of P-KORP and The Minch Foundation or be bankrupt. Meanwhile, Dan Moore's hosting duties were being interrupted by cranky phone robots and death threats from the Tucson (or was it Twoson) mob. By the afternoon, Pokey had enough. It was his show, he'd paid for it, so he fired the Soul Bros, fired Moore, and put on his own show.
As a final olive branch to the community, Pokey gave them a venue for their frustrations: the Pork Roast. Lil' P came out in an opulent sedan chair and revealed himself to be none other than Pokey Minch. The dancing pig was just another ploy to win over the hearts of Camp Fangamer, but Pokey's quest for love was poisoned by his malicious and greedy ways. The malevolent benefactor sat back and invited the campers to do their worst. Their verbal assaults were met with Jason Schwartzman-like sardonic comebacks; smug and venomous.
Photo by Ann Kornuta/Luke Schirmer
Enter Jazzy Benson with a briefcase. A deus ex machina handed to her by "some hippie" who said they couldn't use it anymore. The contents? $500,000 cash. Was it profits from Lauchere's Happy Box scheme? Perhaps a gift from the strange old Swede who'd won a Minch Foundation S.P.E.N.D. award the day prior? No matter the case, it's enough to pull the plug on P-KORP's reign of terror. Pokey accepted the cash in a rage – furious about the buyout and his control slipping away. To add insult to injury, Lauchere came out on stilts and backed by the Soul Bros performed Randy Newman's "Short People", but it was Pokey who had the last laugh. He returned from backstage holding the WiiU that the Bash had used all weekend for EarthBound and destroyed it with a mallet.
Moore and the campers held a vigil for the crushed system out in the hall, while the rest of the Camp Fangamer staff scrambled for a solution on how they'd be able to finish the game and conclude the Bash. The answer came in glorious form: the EarthBound arcade cabinet. Game Master Charlie Verdin, clad in aviators and headband bandanna, stood ready for battle on The Chaos Theater stage. All that was left was to vanquish Giygas, the Universal Cosmic Destroyer, but Pokey had other plans.
Photo by Ann Kornuta/Luke Schirmer
The psychedelic nightmare of EarthBound's final battle came to life. As the Super Soul Bros laid down their chaotic instrumentation, Pokey activated his spider mech. He encased himself in a clear bubble, while massive black tentacles ballooned around him and pulsed out from the stage. Pokey launched out into the audience, rolling amongst the people who he despised, but whose affection he demanded. It was pandemonium – a Peter Gabriel concert melded with a metal show. The crowd cheered and thrashed; a sea of red glow sticks, balloons, and confetti. The Wheel of Obligation spun like mad. Pokey chided the audience as they shoved against his bubble and the ballooning black arms of the spider mech that pushed out into the crowd. Neither photos or video do the scene justice [Update 4/7/16: But this video below does a pretty good job.]
EarthBound's final boss is an alien that's become so consumed with evil that he's lost his physical form and his mind. Giygas is a swirling mass of horrors which you cannot injure. The only way to destroy him is to pray – a relatively useless ability that only one character can use. But by praying during your battle with Giygas, you connect with every person whose lives you've touched on your journey and their prayers for you, in turn, destroy Giygas. The audience began chanting "Mo-ther, Mo-ther".
The final blows are dealt by someone you've never met before – the player's own name plugged in earlier in the game. In this case, the name is "Camp Fangamer 2015". At that reveal the chanting becomes screams.
Smiles And Tears
Photo by Ann Kornuta/Luke Schirmer
There's no part of Camp Fangamer that wasn't a labor of love. Childlike glee and nostalgia was met with equal parts adult introspection. The same could be said of EarthBound itself. This funky, unlikely game has transcended the scope of its most revered RPG peers and touched lives in a way well beyond much of the best-known media of its era. It was created to be different, and that spirit has culminated into not just a devoted fanbase, but a generation of counter-culture creatives.
Among the convention's most prestigious features was the Merch Museum – the single most complete gathering of international Mother memorabilia on record. It's a true sight to behold: complete figurine collections from Japan, impossibly rare promotional items from the US release, even the NES cartridge containing Nintendo of America's original translation of Mother. But the museum went beyond merch, it was a museum of the fanbase itself and a testament to the passion and legacy of those who would become Fangamer.
For many first generation EarthBound fans, sharing news, fan creations, and participating in campaigns on Starmen.Net was a way of life. There, in the Merch Museum, was the entire legacy of this site and the world on the other side of the screen. One case holds a stack of letters from Starmen/Fangamer founder Reid Young to Nintendo. The top most sheet is a reply from Nintendo of America dated September 24th, 1999 that thanks Young for his petition to re-release EarthBound on GameBoy and plugs the never-to-be-released N64 version of Mother 3. Nearby there's a photo of him seated in front of an old CRT monitor. He looks not a day over 15.
Elsewhere in the room are gorgeous figurine sculptures by Camille Young, Reid's wife who created all the original character portraits for Fangamer's Mother 3 Handbook. She and Reid met in the site's early days and theirs is but one of many romances to blossom from the fertile ground of the EarthBound fandom. Across from that cabinet is a shrine of props and memorabilia from EarthBound Saga, a fan film series that started in 1995 – the year EarthBound came out in the US. The films star Robbie Benson, frontman for the Super Soul Bros, and went on to be directed by his younger sibling Jazzy Benson, the mastermind behind Camp Fangamer. EarthBound Saga started when the Bensons were barely old enough to pick up a controller as a dad-filmed camcorder production. As a joke they continued it as an ultra low-budget teen video, and though still low-budget, have successively upped the ante to its long-awaited fifth installment: a feature-length indie horror film.
Part 5, which saw its debut at Camp Fangamer, is an incredible feat of fan love. The series' improbable continuation is taken to its logical extreme: amidst complex set pieces, stunts, and CGI, Robbie Benson still wears the same faux Ness baseball cap from earlier episodes cobbled together out of printer paper, duct tape, and paperclips. The warped, Evil Dead-inspired take on EarthBound is a living thing – growing with the brothers as a forever side project, just to see how far they can take the joke. (The film's final cut is still awaiting public release.)
Photo by Ann Kornuta/Luke Schirmer
Camp Fangamer was as much a family reunion as it was an unprecedented convention. Some campers came alone, others came in groups, young campers even came with parents including a baby whose birth name is actually Ness and cosplayed the part every day while teething on a yo-yo. They were all a part of the story, and they were all bound together through years of shared interaction with the fandom or at the very least a passion for Mother. Many participated in the event as much as they were swept up into it. Fan panels touched on everything from EarthBound history and how to keep old game carts and arcade cabinets running like new, to the Mother series' groundbreaking representations of gender and sexuality. There was always something to connect with and there was always someone to connect to.
The End… ?
Photo by Ann Kornuta/Luke Schirmer
It's an amazing time to be an EarthBound fan, especially for those who fell in love with the game two decades ago. The original fanbase's uphill fight has ensured that the series can be enjoyed by a whole new generation. What comes next is uncertain, but in many ways Camp Fangamer was the close of a chapter.
The last great triumph would be for Mother 3 to receive an official release from Nintendo. Even with the first two games' chart-topping digital releases and the critical acclaim of Mother 3 via Fangamer's professional, but unofficial translation, it's an unlikely goal. Mother 3 is easily the most complex game in the series and deals with themes well beyond Nintendo of America's usual comfort level. In a final fan campaign, Fangamer started #ThisIsEarthBound – an ongoing project to celebrate fans' love of the series by sharing their stories. It's an admitted longshot, but perhaps with enough responses #ThisIsEarthBound could serve as a further quantifier for Nintendo to release Mother 3 outside of Japan.
Funding for Camp Fangamer was achieved via the You Are Now EarthBound Kickstarter which Fangamer launched to create the ultimate culmination of the passions that brought them and the community together. The Kickstarter was overfunded to the extent they were able to create Camp Fangamer and forthcoming projects such as multiple EarthBound music collections and a book about EarthBound's English localization, but the main features are a comprehensive EarthBound Handbook and Jazzy Benson's documentary, EarthBound USA.
EarthBound USA chronicles the fanbase's journey so far and is still in production. Filming has taken them to Japan to speak with Shigesato Itoi, and also took place at Camp Fangamer where, barring any further surprises from Nintendo, the narrative will end. The pressure is on for Benson, but having helmed the feat that was Camp Fangamer, and creating the fanfilm masterwork that is EarthBound Saga 5, she's proven himself well-equipped to bring the fandom's own saga to the world.
Between campers and the EarthBound Bash's online spectators, many are wondering: was Camp Fangamer a one-off, or will there be another? Could Fangamer become the Secret Cinema of video games; creating interactive experiences for other beloved series like The Legend of Zelda or Chrono Trigger? The verdict is still out. For now, the fansite turned game translator, turned book publisher, turned apparel designer, turned film producer is showing no signs of slowing down. Throughout the next year we'll see the release of their continued love letter to the series – tangible testaments to how far the EarthBound fandom has come. But for the 400 who sojourned to the Tucson desert, the greatest love letter has already been received: the weekend where they brought us all together and made our favorite story come to life.
Photo by Ann Kornuta/Luke Schirmer
For more from Camp Fangamer, stay tuned for article adaptations of our event panels: "Deep Darkness: Horror in EarthBound" and "XXXterday: Pop Culture of EarthBound" – coming soon.
Are you following Nerdy Show on Twitter, Facebook, Tumblr, & Google +?
About Cat
Cat is Executive Producer of The Nerdy Show Network as well as Lead Host of the titular Nerdy Show podcast and one of the site's founders. Her illustration, graphic design, and writing both journalistic and fictitious have appeared in various publications and public spaces.