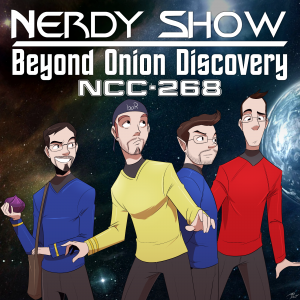 The Nerdy Show Network's flagship podcast unloads on the latest geek news and happenings!
After Cap left on a 2 week mission to Comic Con and Camp Fangamer, the rest of the Nerdy Show crew have been left adrift.
Join your new captain, boR, as he leads an away mission into uncharted realms of topical nerd discussion with ensigns Brandon, Doug, and Tony. Along the way they discuss Star Trek: Beyond, Star Trek: Discovery, MegaBots, Steam sale acquisitions, Overwatch patch notes, Witcher 3, Mr. Robot, World of Warcraft: Legion, and more Comic Con trailers than you can shake a tribble at.
But wait, there's more! Doug gives us an update on the progress of one of our dumbest/ best ideas ever: Spider Simulator! What happens when Brandon brings onions to a podcast recording? Can they successfully pull off making an episode of their own? To find out, you have but to ENGAGE. (more…)
Read More →