Sightseeing on the Server of Awesome: Month 1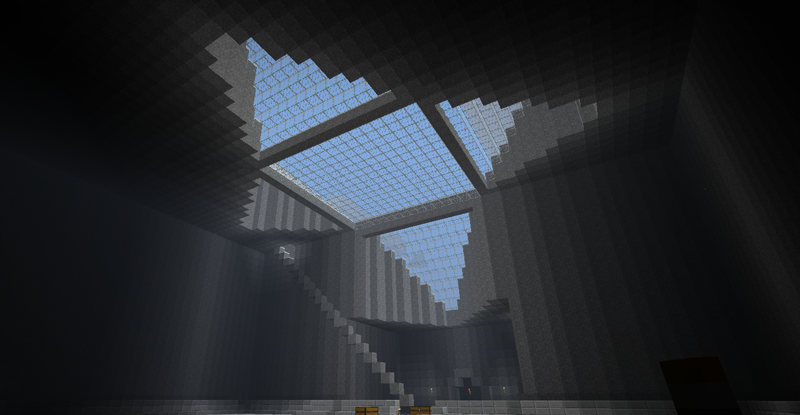 Yo guys, Cap here! The response to our Minecraft server has been nothing short of incredible and in just a month's time what was once a quiet and mildly interesting tundra has ERUPTED into a nerdy utopia.  It's like that Treehouse of Horror episode where a city grows on Lisa's tooth in a day.  It's nuts.  We can't just keep all this coolness to ourselves we HAVE to share it.  That's why we're starting up weekly articles about the structures, findings, and happenings on the Server of Awesome. The courageous explorer behind this travelogue is no stranger to Nerdy Show, it's Kristin –  frequent video game correspondent and now Staff Writer for Nerdy Show! The other Nerdy Show hosts and I will still be making frequent appearances to witness the majesty in person and dig some killer holes, but Kristin is our go-to girl for keeping tabs on all the latest Minecraftery so say 'hey' to her online, give her the happs, and send any cool Minecraft photos her way.  Now… onward!
__________________________________________________________

Hello friends! My name is Kristin.  You may remember me from such Nerdy Show episodes as Cosmic Things, the Mass Effect Minisode, and the most recent episode of Nerdy Show Season 4, but if you frequent the glorious land of Nerdy Show's Minecraft server (aka the Server of Awesome), you proably know me by my handle Ckrickett. I'm in the picture below wearing a dinosaur t-shirt!
On the Server of Awesome, everything is constantly changing and growing – everywhere you turn or walk or explore there is something new to find.  You can't go five meters on the Server of Awesome without tripping on an act of creative genius!  With my handy dandy compass and diamond pick-axe I explore this world, ready for anything – because some day soon there will be scary monsters everywhere and I need to mentally prepare myself.  Along my travels I met new friends, loyal listeners, who would later become travel guides. Their thirst for exploration can only be quenched by the conquest of this digital world.
Cap did an article after the first week on the server, and a brief follow-up post with new maps –  but so much has happened since then!
I want to take you on a brief tour of some of the newer, very clever, and unique structures the amazingly talented and dedicated Nerdy Show listeners have made.  Not only did fans name the "Server of Awesome", they made it live up to its name. Some of these places you can find just by walking around the spawn site, while others are in more remote locations.
If you look to the sky you'll see something familiar, and quite frightening. The Death Star by "Twothums" Because what we need on this server is a giant super weapon! Thanks Twothums, I felt much safer exploring this land knowing that I have a massive space station watching over me!
If you do some underground exploring you are sure to stumble upon Bspeer and Spacevagrant's work. For instance, You might come across this small little stone structure while on your journeys.
Inside it is a puddle. But when you step into this puddle, you fall down a secret waterfall and right into Spacevagrant's watery underground lair. Take a few twists and turns and you'll either get lost in a labyrinth or find yourself climbing to the top of a tall tower.
Since Minecraft has no real weather Bspeer made his own! Behold the Tornado Tower:
Bspeer also created some amazing underground monuments and structures that, like the Mayans, must have been influenced by aliens – or at least Indiana Jones.
A certain very creative and talented young builder that goes by the handle "Kahalis" has been the creative force behind some very big and magical mega-structures on the server, all of them impressive to the max!  One of his most recent projects is a rather large and decadent cathedral called, the Evil Cathedral of Evil:
The Cathedral has massive glass ceilings, Antechamber of Knowledge, a foreboding room with fiery torches and a creepy yet mesmerizing diamond skull mosaic covering a very ominous wall. Mysterious glyphs cover parts of the floor, with an intense feeling of arcane magicks.  To top it all off, the symbol in the ceiling is from an eclectic point and click adventure game. Now that's nerd cred! But wait what's this… a DROWNBALL COURT!? A massive, to-scale Drownball Court?! Nope, THAT'S nerd cred.  Wow.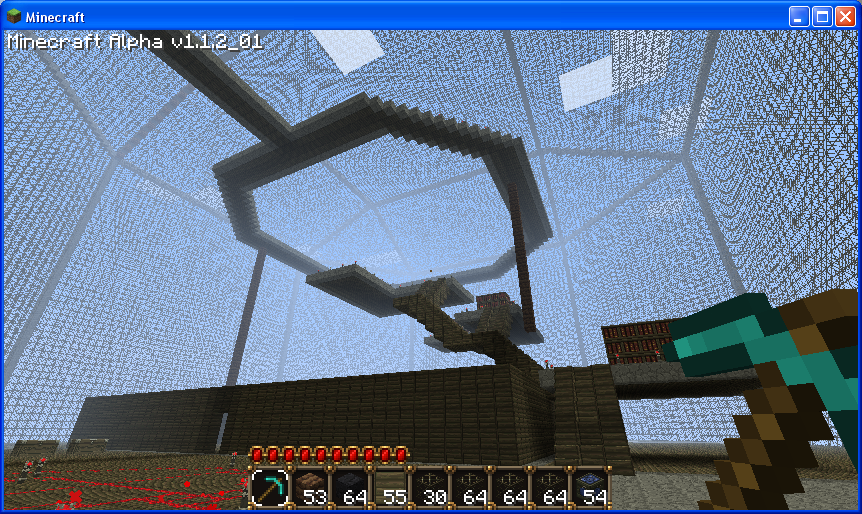 The epic Antechamber of Knowledge!!!
Speaking of 8-Bit Theater goodness and tributes to the delicious Mr. Brian Clevinger…
By now everyone's seen the statue of Black Mage, done by Raven777, featured on  NuklearPower.com. But did you know the whole gang is in the works?:
Walk past Kahalis' dirt castle, up the coast, and you'll find a beautiful and unusual garden. Rilbur's hanging gardens are better than Babylon's – instead of just flowers and trees it's covered in molten lava!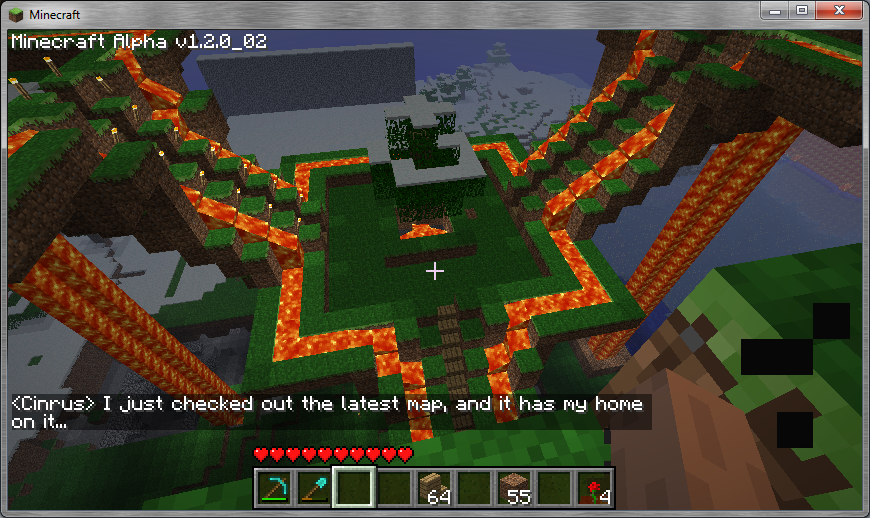 This is just a tidbit of all the jaw-dropping stuff YOU most excellent Nerdyshownauts are up to. Your sustained awesomeness and amazing imaginations continue to blow our little minds to pieces!  Wandering around I can't believe how often I'm dazzled by everything I see.  I'm not using words like "awesome", "amazing", "outstanding" etc. for my own good.  There are no other words.
Check out the new maps below to really get the scope of what a BEAST this server is.  The Halloween update's addition of biomes has already borne forests and deserts in addition to the server's snowy mountains.  Structures are showing up everywhere, and they're getting weirder.  Just look at that gigantic pool table – wtf!? (Reminds me of that one time in TMNT Adventures… – Cap) (It's by TwoThumbs. – Mike) People have even taking to writing messages that can only be read when the map is viewed from above.  "Hi", to you too!
Thank you Bspeer, Rilbur, Kahalis and Twothums for the pictures. If you sent me some of your amazing work and you don't see it up don't fret! There's much, much more to cover and I'm gonna do my darnedest to hit it all!  Talk about impossible tasks.
When it comes to all the progress and exploring on this server, there's no way I can see it all on my own – I want to know what you guys are up to! Has Triforce Mike reached into the deepest recesses of your mind and you can't stop yourselves from creating massive phallic objects? Show me on the doll where he touched you! Do you find yourself wanting to recreate more of the classic hilarity of 8Bit Theater or maybe your own giant Robo!?  Have you found all the Lantern Shrines and Power Batteries?  Let me know! Send me pics, emails, stories and future or current projects to ckrickett@nerdyshow.com
With our Minecraft world ever-expanding, and traffic picking up 24-7 (seriously) the server needs maintenance and upgrading.  The best way to help with that is by donating.  We've already started making some improvements to hardware and internet service thanks to some generous donors.  Plus – your donation scores you some exclusive downloads, like never-before-seen D&D art and the unedited Dean Wallace Tapes from Nerdy Show Prime. But you may ask, "Kristin, how can I help get rid of lag, support the show, AND look dashing at the same time?" Easy! BUY A SHIRT! Then take pictures of yourself punching trees or digging holes IRL and get featured on the site! You know that'd be cool.
New maps! (11/5/10):
The Nerdy Show crew on Minecraft (click to view avatars):
Experiencing any technical difficulties such as the "ghosting" bug? E-mail minecraft@nerdyshow.com!