Dungeons & Doritos :: Barty Hard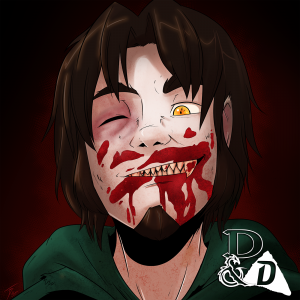 Embark on an adventure with Nerdy Show's epic RPG podcast, Dungeons & Doritos!
In dangerous lands, surrounded by massive Northlanders, with the full moon a mere day away… our heroes are in a bad way. Fortunately, the musclebound and deadly warriors of the North have reason to strike a bargain with the puny Southerners. Unfortunately, it involves a mysterious flying ship and rescuing a captive from a rival war party.
Deep in unknown terrain, battling hulking foes on their home turf, the party is going to have to use all their skills and pray to the dice gods… Tiamat… Flamas… any deity who's listening, that they survive this ferocious battle. And, with the odds stacked against them, can Lefty and Jamela keep a leash on the increasingly feral Barty?
Download from the player above ::
iTunes
| 
Soundcloud
|
audioBoom
|
Google Play
|
Stitcher
|
RSS
Episode art
by Tony Baldini |
Tracks:
D&D has an original score! Click the links above to download the tracks and support the artists.
D&D Merch:
Sagas RPG Links:
Other D&D Links:
Chips Tasted:

Doritos Rainbows
Doritos JACKED 3D Bacon Cheddar Ranch