Wicked Anime Podcast :: Episode 088 :: Now with More Metal!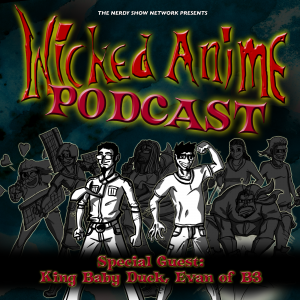 Wicked Anime brings you awesome animated commentary every other week!
Here at Wicked Anime, our show has a knack for shedding light on just as many reasons we hate anime as reasons we love it. Even in shows we're hopelessly devoted to, there's always those particular aspects we wish had a little less screen time. In this episode we're highlighting the characters that drive us as crazy as nails on a chalkboard! BUT FIRST – We talk about something much more pleasing to our ears: we witnessed metal sensation, BABYMETAL, and we take a few moments to share just how metal this show was!
Join Jonathan, Andrew and Evan of the Boston Bastard Brigade as they talk about what's happening in anime and some characters that give us ani-headaches, yo! PLUS – METAL, Senran Saturdays, and Pooters!
Download from the player above | Subscribe via
Soundcloud
|
iTunes
|
Stitcher
|
RSS
Music:
Links:
Art Blogs
Wicked Anime Links:
Boston Bastard Brigade Links:
About Jon Jonstar
Jon is the Co-Creator and Co-Host of Wicked Anime, a video review show and bi-weekly podcast about anime and Japanese Culture! His nerd caliber goes far beyond just anime though, he is a movie fanatic, comic book collector, and real-life professional artist! When he's not editing video or audio, you can most likely find him at conventions, either on a panel or in the dealers room!