The Top 20 Nerdy Things of 2013
We proudly present our 5th annual Top 20 Nerdy Things list!
Since 2009 it's been our solemn duty to create a list ranking the "Top 20 Nerdy Things" of the year.  We take all of pop culture, science & technology, and world happenings and subject them to a number of life-or-death challenges akin to Highlanders battling one another for the quickening, or The Hunger Games for you younglings.  Those topics that remain, the experts here at Nerdy Show judge by the truest qualifying factor we know: Nerdiness.  No sane person would dare rank scientific achievements against video game releases – but, for the betterment of humanity, we do.
Curious to hear more about why we chose these? Listen to our annual FINAL BOSS podcast accompanying the list to find out! Think we missed something?  Comment on this page or hit us up on the forums!
Past Year's Lists: 2009  |  2010  |  2011  |  2012
THE TOP 20 NERDY THINGS OF 2013:
20) The White House's response to the Death Star Petition
In 2012, the American people started a petition on whitehouse.gov to "Secure resources and funding, and begin construction of a Death Star by 2016".  In 2013, over 34 thousand signatures later, the White House responded.  Or, should we say, Paul Shawcross responded.  He's the Chief of the White House Office of Management and Budget's Science and Space Branch, and The Force is strong with him.  In his response entitled "This Isn't the Petition Response You're Looking For" he explains with deft Jedi skill why building a Death Star is a terrible idea and what awesome stuff the government is doing to promote space sciences.  Great post kid, that was one in a million.
19) Escape From Tomorrow
Escape From Tomorrow is a surreal psychological thriller shot covertly (and illegally) in a number of Disney Parks.  Its elaborate production is a first, and subverts Disney's famous family-friendly image while showcasing a nerdy fascination with the manufactured experience of theme parks.  The film, written and directed by Randy Moore, is like a feature-length episode of The Twilight Zone (or at the very least The Outer Limits) and follows the mental breakdown of a family man as he experiences horrifying visions, dangerous liaisons, and sci-fi secrets beneath EPCOT. Escape From Tomorrow had a limited theater release and is available to download on demand.  Links below, but first, check out the trailer:
18) The world goes Drone crazy
This isn't any one thing in particular, but rather a new state of being.  In some ways it's one we predicted back in 2010 with our coverage of  Parrot's AR Drone – the first major commercially available quadrucopter.  We said it then, "THE FUTURE" – and now that Amazon is boasting doorstop drone delivery and small hick towns are looking to extend drone hunting licenses… well… we told you so.
17) Final Fantasy VI: Balance & Ruin Overclocked Remix Album
Overclocked Remix have a reputation of making absolutely legendary fan arrangement and remix albums.  This is their 40th, and it's a new high water mark.  Balance and Ruin features rearrangements of the entire beloved Final Fantasy VI score by Nobuo Uematsu from some of the biggest names in the VGM community. 74 tracks, 74 artists, 5 physical discs, and a massive fan-funded release allowing the project to be officially licensed by Square-Enix. As is always the case with those fine folks over at OCR, this incredible undertaking is free to download.
16) Gravity
Alfonso Cuarón's Gravity is one of those rare sci-fis that's way more "sci" than "fi". And while some of the film's elements are dubious in their accuracy, the experience is a modern space thriller the likes of which we've never seen before.  As with all great hard science fictions, the human condition is at the core of the film and, though Sandra Bullock's character doesn't find herself in an existential quandary, the intense situations she endures are profoundly human.  Pair that experience with the best outer space effects ever produced on film and some of the best (and most appropriate) 3D to ever come out of Hollywood and get sucked in by the horror of the vacuum.  Perhaps the disaster porn of the International Space Station and just about every other human object in orbit exploding isn't the most nerdy and progressive story to ever grace the screen, but the experience is second to none and Gravity has more than enough nerd points to stack it this far on our list.
15) Google Glass
Like drones, Google Glass is another clear cut sign of the future unfolding.  They might not be augmented reality capable… yet, but they do make the world significantly more cyberpunk. (Even though many of the people affluent enough to currently use them are more worthy of the term "Glasshole").  Unless a contender shows up (and it might yet) Glass could very well be a paradigm shift like the release of the iPhone.  So now the question is: with true future tech making its way to the average joe at an increasing pace – how much longer will we be able to quantify "nerdy" and "normal" in the world of gizmos?  It's our hope the answer will be: as long as there's still sci-fi authors looking to the future.
14) inFORM  Dynamic Shape Display
Remember that scene in the first X-Men movie where a big pin sculpture-like device makes a map of New York City?  Well, it took over a decade, but we finally have that tech! And it has more features than in X-Men. inFORM is a Dynamic Shape Display created by the Tangible Media Group. It doesn't just recreate 3D models – users can directly mold and change the color of inFORM's shapes.  It can also move objects, and interface with video conferencers to give them a physical presence in the discussion. It's still in early development, but the working model is impressive and shows great potential as the tech is further miniaturized and expanded. It's always refreshing to see future tech that's actually tactile!
13) Capcom Unity teams up with fans and musicians for Mega Man's 25th Anniversary

These past few years we've been living with a substantial lack of Mega Man. Mega Fans have been crying out for more from the Blue Bomber, and these cries have been heard.  This year Capcom Unity – Capcom's face in the U.S. of A. collaborated directly with the fans and Mega Man-inspired musicians from Nerd Rock, Nerdcore, and VGM communities to create two albums of Mega Man music.  One album is remixes and arrangements from across the Mega Man series compiled by Overclocked Remix – For Everlasting Peace: 25 Years of Mega Man, and the other compiles new and beloved tracks by The Protomen, Arm Cannon, The Megas, Mega Ran, X-Hunters, and Bit Brigade – MM25: Mega Man Rocks. (Among the Protomen tracks is a brand-new song written just for this compilation!) What's more, the album art for both collections was sourced as part of a fan competition.  Learn more about this amazing project and hear our interviews with The Protomen and Capcom Unity's Brett Elston in our episode "Mighty Mega Men".
12) The Doubleclicks – Lasers and Feelings
Angela and Aubrey Webber, better known as The Doubleclicks, have been wowing nerds with cello and ukulele-laden odes to Star Trek, Dungeons & Dragons and Mr. Darcy for a few years now, but it was 2013's Lasers and Feelings where they made their big break. The record debuted at #7 on the Billboard Comedy Albums charts, and lead single "Nothing To Prove" was an impassioned response to the "fake geek girl" argument that's been hotly debated as of late. With a video that featured the likes of Wil Wheaton, Marian Call, Adam Savage and more, the track garnered more than a million YouTube plays. This year, they scored a big win for nerdy ladies everywhere, and indeed nerdom at large.
11) The Dark Crystal fan-recreated Director's Cut
Jim Henson and Frank Oz's all-puppet fantasy masterpiece, The Dark Crystal brought an alien world to movie screens the likes of which had never been seen before.  The film is a work of art, but like most art made within the commercial confines of Hollywood – some artistic sacrifices have to be made to make the bottom line.  The directors' original vision of the film was far more immersive and unearthly, putting more trust in the audience to interpret what was going on:  The Skeksis spoke in an untranslated other language, there was no hand-holding narration, scenes were longer… But that version never made it past test audiences.  In recent years, one of these test prints made it into the hands of fans; and this year, after two years of work, Christopher Orgeron has restored Henson and Oz's original version.  Orgeron's "Director's Cut" faithfully recreates the original test print version with the best quality sources available to take fans deeper into the world of Thra.
10) CastAR
In the past few years we've seen augmented reality (AR) games gain popularity. However, we had yet to see a true AR solution outside of handheld gaming systems such as the 3DS and PSP. This year, CastAR brought us into the future with the first true augmented and virtual reality gaming system available for purchase. The system simply requires a special set of glasses and a sheet of retroreflective paper.  Using a truly unique combination of augmented and virtual reality, the player is whisked into a world of dungeons or sci-fi shooters. What's more this thing was built with remote AR tabletop roleplaying in mind – so you can play D&D with friends from around the globe and share the same virtual board. Even after a wildly successful Kickstarter campaign, Technical Illusions is still accepting pre-orders and the first commercially available units are expected to ship in September of next year.
09) Fans push Nintendo to finally release Earthbound / Earthbound Baaaash
For the past decade, fans of Nintendo's cult classic RPG, Earthbound (aka Mother 2) have been campaigning for Nintendo to re-release the game… bring the other two games in the series to the U.S… something, anything.  Starmen.net, home of the Earthbound fan community, has staged elaborate call-ins, write-ins, and other big pushes for the title to be re-realeased for new audiences in America.  They got the Big N's attention, but the company almost belligerently refused to resurrect this massive fan favorite.  Only this year – fans enlisted Nintendo's own social software in the crusade, and Earthbound is out now on the WiiU.  Using the internationally-linked Miiverse, American fans hit of Earthbound's Japanese language board to write testimonials, draw pictures, and plead for the game's release – and it worked!  To celebrate this monumental event, Fangamer, the evolution of Starmen.net, threw a multi-day online party called Earthbound Baaaash.  Baaaash featured a playthrough of the game with special guests including one of the game's original localizers, Earthbound cuisine, character piñatas, charity auctions, and other awesome antics. A perfect afterparty for one of the longest-fought fan wars of all time.
08) The X-Files continued in Season 10

The X-Files was cultural zeitgeist, and in many ways a contributing factor to the world becoming a nerdier place.  When the series ended there were still myriad questions – and now, the truth is indeed still out there.  "Season 10" of The X-Files is an official comic book continuation of the series from IDW publishing.  The book is executive produced by series creator, Chris Carter and written by Great Pacific's Joe Harris.  We recently spoke to them both about the creation of Season 10, the story so far, and what's to come in our episode "The X-Files Re-Opened".  Though the comic's canonical balance with any of Carter's future X-Files projects is tentative, Harris is adamant about making sure the book aptly weaves in and out of past and future storylines. So far, Season 10 is  phenomenal – the book jumps right back into the mytharc action: aliens, super soldiers, monsters of the week, and more.  It's every X-Phile's long-awaited wet dream.
07) "Superman Memory Crystals" Redefine Data Storage
Scientists always get points for naming or basing their works off of pop culture. Presenting 5D nanostructured quartz glass optical memory – dubbed the "Superman Memory Crystal" after the Sunstone or "Memory" Crystals from Superman lore, used store infinite amounts of data. Our own Earth technology has done just that: this little sliver of glass could guarantee the longevity of human knowledge in the cosmos.  The new memory format, developed by University of Southampton and Eindhoven University of Technology scientists, can currently store 360 TB on a disc for more than a million years. Modern hard drives last about a decade before data loss begins to occur.  To learn more about how this amazing new tech works – listen to our 2013 Final Boss podcast, or follow the link, below.
06) Chamber Band – Deities
Since the 1970s, the prog-rock greats have inspired countless basement dungeoneers on their pen and paper adventures. Isn't it high time that the dynamic swapped? Behold: Chamber Band! These wandering bards sing songs of myth and adventure like the prog-rockers of old, but with tongue-in-cheek tabletop inflection: name-dropping D&D deities, items, and rules.  Their storytelling tracks have much in common with the folk rock narratives of The Decemberists, with quality to match. One of the dangers with "nerd music" is that the novelty of nerdy content sometimes outweighs the musicianship and universality of the songwriting.  That's not the case with Chamber Band.  Musically, they're one of the sharpest bands to ever hit the scene and, with tracks like "Lawful Neutral" and "Shapeshifter", they strike powerful chords with fantasy roleplaying enthusiasts of every class.


05) Brian Wood's Star Wars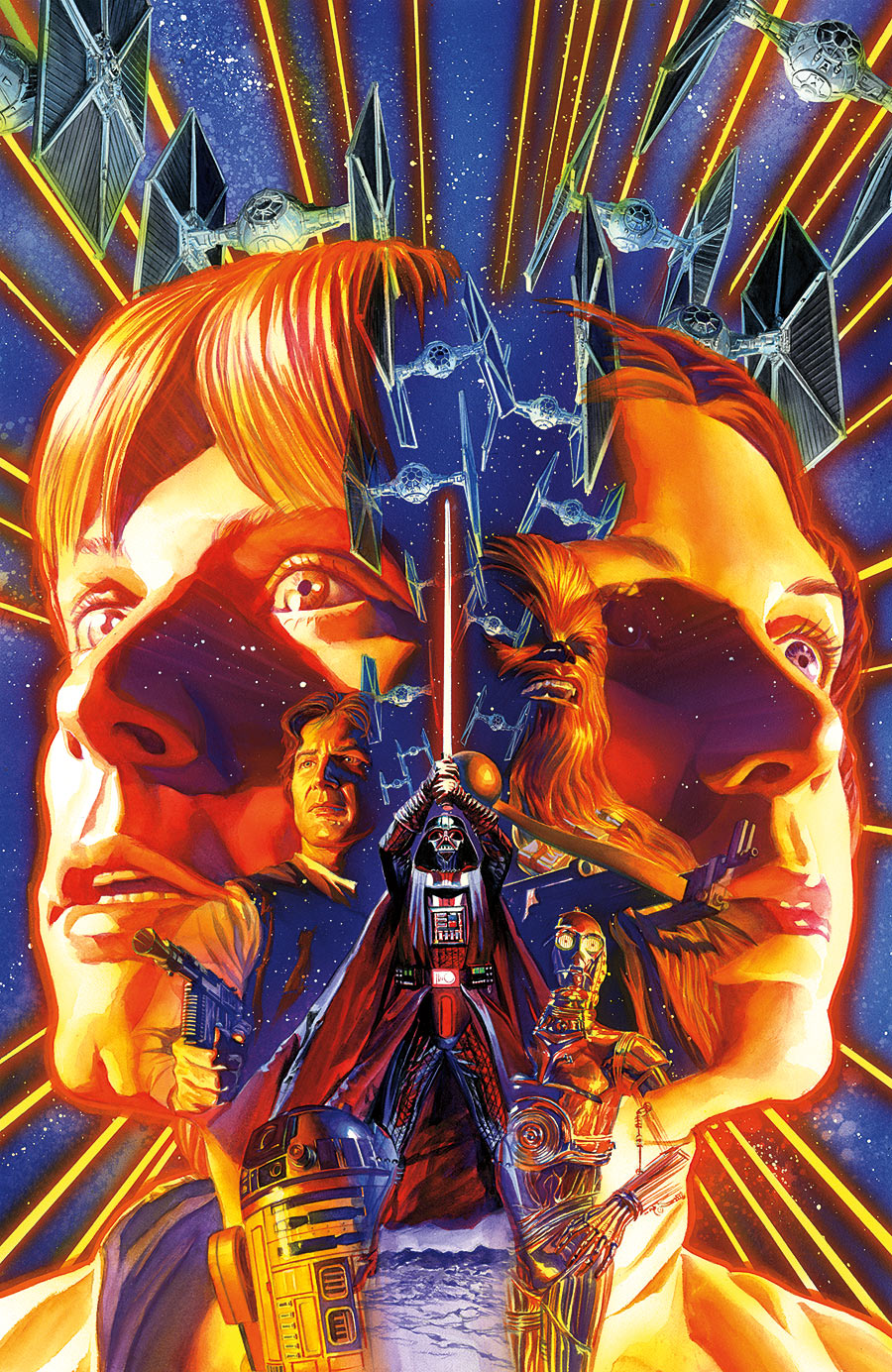 This is the Star Wars comic you've been waiting your whole life for.  Taking place shortly after A New Hope, the aptly-titled Star Wars presents a depiction of the Star Wars universe more true to the original film than ever seen before.  The victory against the first Death Star has shaken the Empire, but the Rebels are homeless and struggling to build their forces while on the run. Series author Brian Wood brings the realistic political insurgent intrigue he's known for (see: DMZ) to the galaxy far, far away.  See Princess Leia cope with the loss of Alderaan, Han and Chewy outrun Boba Fett while doing jobs for the Rebellion, Luke and Wedge form Rogue Squadron, and Darth Vader – shamed, but kicking ass.  It's a continuation of the classic film unfettered by the weight of the expanded universe or even the other films.  That's not to say that it exists in its own universe, but rather that it presents a fresher, more adventurous return to the classic trilogy in a way that the Star Wars franchise has never seen before –  And that is a momentous thing.
04) Batkid
Ridiculous Make-A-Wish Foundation requests getting out of hand is a frequent trope in animated television… It's about time it happened in real life!  5-year-old Miles Scott has been battling cancer since he was born.  His dream? To be Batman for a day.  The Foundation put out a request for volunteers to make his dream a reality and were met with an unprecedented response: crowds of thousands, a Lamborghini Batmobile, dramatized villain battles, and more transformed San Francisco into a facsimile of Gotham City. How is this possible? Simple: people love Batman.  People could help cute kids every day, but ultimately the public's fascination with the Dark Knight is clearly not to be underestimated. Batkid's cancer is in remission and he got a shout out from President Obama – suffice it to say, 2013 has been pretty good for him.  Though it's important to note – the Batkid spectacle did come at a price.  The cost of making one cancer-free, white, American kid's dreams come true could have healed, fed, and sustained many needy individuals at home and abroad. But this list is about what's nerdy, not what's fair.  Maybe Miles Scott will enter our list again when, humbled by this experience, he grows up to be a real superhero and kicks famine in the teeth.
03) The First Government-Recognized Cyborg
Neil Harbisson has achieved what was previously impossible – the photo on his UK passport shows him wearing his custom augmentation: the Eyeborg. Harbisson was born without the ability to perceive color.  To remedy this, his Eyeborg converts colors around him into soundwaves, which are transmitted to his inner ear via a bone conduction device on the back of his head. He now perceives the world in a way no human previously has; all due the symbiosis with his device.  It's a part of him.  After years of use, he even dreams in the sonic colors of the Eyeborg. Removing his augmentation would be like removing a part of him, disavowing his nature – and now his international government documentation represents that. Google Glass has nothing on the genuine cyberpunk future Harbisson is crafting.  He's even started a foundation to help other cyborgs protect their rights!
02) Pacific Rim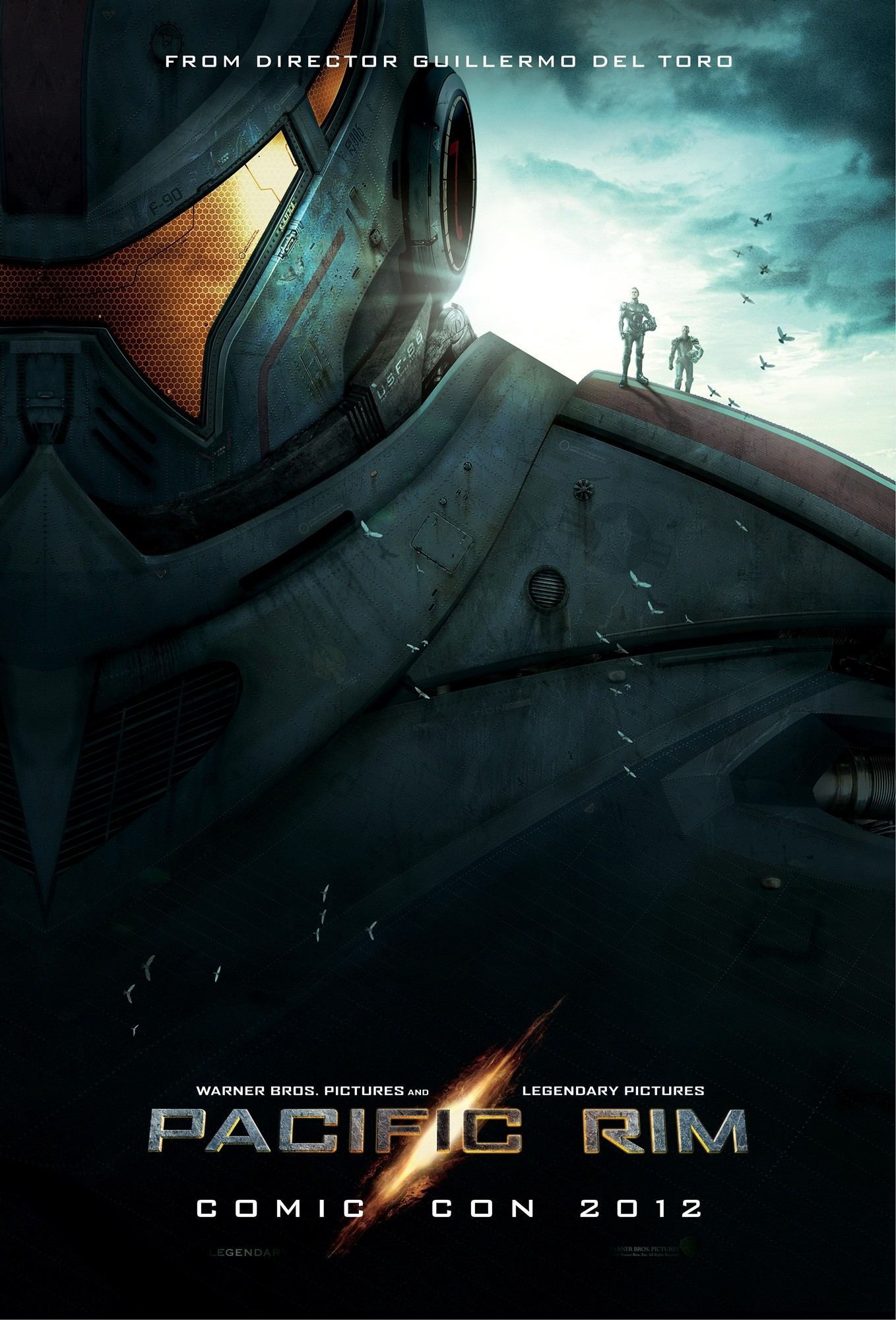 It's the best movie of the year, or at the very least the nerdiest.  Guillermo Del Toro and Travis Beacham's Pacific Rim is so good that Metal Gear creator Hideo Kojima personally endorsed it as the movie fans of giant monsters and/or robots have been waiting for all their lives.  What's more, you don't even have to be hardcore otaku to love it.  It's a movie with all the trimmings of a summer blockbuster: insane effects, explosions everywhere – but it doesn't treat you like an idiot! Pacific Rim gives character and amazing depth to a world where giant monster invasions are the norm. It's always an event when nerdy filmmakers manage to pull of a passion project, and Pacific Rim is just that – some of the biggest nerds in Hollywood creating not just a film, but a whole world, for the sheer fun of it.

01) Astronaut Chris Hadfield Performs "Space Oddity" in Space
As mankind ventures farther into the stars it was bound to happen: sooner or later someone was going to perform David Bowie's "Space Oddity" in space. That said, we're not sure we could've imagined it happening in a more perfect and profoundly nerdy way. Celebrating his last day running of the International Space Station, Commander Chris Hadfield released a video in which he performs a revised version of the song in the zero gravity confines of the ISS and against the amazing vistas of space outside the station's windows. Reportedly, this was not just the first performance of "Space Oddity" in space, but the first musical recording in space – period. The video and performance are heartrendingly beautiful.  It's a tribute to humanity's achievements and  our smallness against the void of the universe. It's also the most perfect and appropriate cover song ever recorded, and a nerdy event not just for the year, but for the history books.