Flame On :: Episode 143 :: Steven Universe Microsode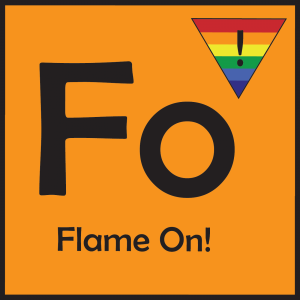 Flame ON! is the all-gay, all-geek podcast. Tune in as we dish on the latest in pop and queer culture!
This episode we're diving into a listener-requested, single-subject conversation on the hit Cartoon Network show, Steven Universe!
Pat, B.J., and Bryan sit down to discuss Rebecca Sugar's series (not only the first woman to create a show for Cartoon Network, but also an openly bisexual woman), and its impact on the LGBT community as well as fans across the globe.We explore the Crystal Gems, fusions, and the supporting cast of the show before finally discussing our favorite musical moments.
Be warned! The episode contains spoilers for Steven Universe through Season 3. So if you're not caught up with the show, listen at your own discretion.
A huge thank you goes out to our friend and fan Ron for his support of our show! If you'd like to support this show, or others on The Nerdy Show Network, you can send one-time donations, subscribe via Patreon, or shop via our Amazon links. Everything you need to chip in is right here!
Download from the player above | Subscribe via
iTunes
| 
Soundcloud
|
audioBoom
|
Google Play
|
Stitcher
|
RSS
Theme:
Links:
About Bryan
Just a 30-something coder/musician/gardener with a penchant for all things gay and geeky. Creator/Host of the Flame ON! podcast!