The Gazetteers
The Gazetteers are Nerdy Show's all-girl crew. They're women with a genuine passion for what is going on in nerd culture. The Gazetteers aren't about gender-bias; they're about sharing themselves, their fan love, their ideas and opinions, and writing about the nerd world as they see it. Check out this collective's articles twice a month!
_____________________
Meet the Gazetteers
Hear an introduction with some of the Gazetteers in the Nerdy Show episode "Meet the Gazetteers", and read their bios below!
Kailyn Boehm (Kaymonstar)- Creater of the Webcomic Failcraft/ Nerdy Show Minecraft Correspondent
When she was little people always asked her what she wanted to be when she grew up and her response was always "A starving artist." Little did she know that it was a very obtainable dream. Kay draws funny pictures and for the most part isn't a writer but she's giving it a shot anyway. Her nerd genes were passed down genetically from her mother who was an avid D&D player and lover of Star Trek. She was even named after a princess in a Star Trek novel (from Covenant of the Crown to be exact). Many weekends of her childhood were spent eating breakfast for dinner while watching science fiction and horror films from the 80's. Also see: Raised by television.
___________________________________
Laura Borrelli – Co-Creator of A Comic Shop's Fangirls Club / Comic Book Aficionado
Raised on Star Wars and Indiana Jones, Laura's nerdom began at a very young age. She loves to read comic books, play video games, and watch sci-fi. Armed with a degree in Psychology and Marketing, she hopes to use her attention to detail and passion for creativity in the comic book industry. Nerdy things aside, Laura also enjoys running, eating cookies, drinking tea and laughing at cat pictures.
___________________________________
Kristin Frenzel- Nerdy Show Arts & Culture Correspondent/ Pop Culture Artist
Kristin is an artist based in Fort Lauderdale Florida. She's an avid lover of science fiction, classic cartoons, that plus her deep obsession with Barbara Gordon make her a very particular (and/or peculiar) sort of geek. She blogs about horrible cosplay, bakes cakes in the shape of Red Lectoids, and other fun nerdy oddities. Krisitn currently spends her days drawing, painting and running around her house dressed as a dinosaur. Rawr.
___________________________________
Virginia McCarthy – Consequence of Sound Artist, animation enthusiast
Virginia's brain is steeped in a viscous bath of animation, comix, and funky pop culture.  She's a local Orlando artist and one of the staff artists for the music site Consequence of Sound.  As an aficionado of the odd, uncomfortable, and off-kilter she makes it her business to spread the weird around.

___________________________________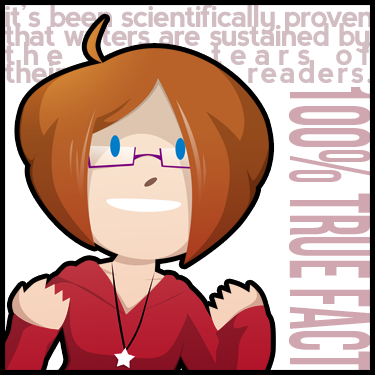 Selan Pike – Creator of EvilFTW, Porkchops and Pickaxes, and a bunch of other stuff
Selan was raised on a steady diet of video games and cartoons from an early age, and has wasted most of her life drawing things and writing fanfiction. She currently still does that, and also maintains a number of blogs and is writing some pretty lame novels.
___________________________________
Jessica Uelmen- Nerdy Show Sci-Tech Correspondent/ Parallax Engineer
Jessica first suspected that she was a nerd at the age of 6 when she would prefer to stay indoors and read a book or do homework rather than play outside with her friends. These suspicions were confirmed at the age of 14 when she began writing Sailor Moon fan fiction and created a website to host them. Today, Jessica is the Engineering Manager at Parallax Inc., co-founder of the hackerspace Dweeb Den and creates educational YouTube videos for which she was awarded at 2011 Makey from MAKE magazine. As for general geekery, Jessica enjoys RPG video games, reading, e-textiles and being able to trounce you at Harry Potter trivia any day of the week.