Flame On :: Curved to the Lefty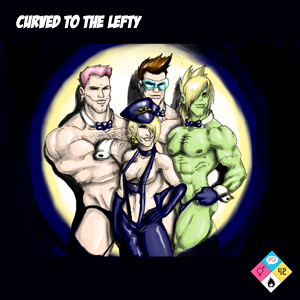 Lefty Lucy! She's nerdy, she's sexy, and she does a few costume changes during the show – a perfect fit for Flame On! Listen to Lefty, Bryan the Bear, Jarrod the Alterna-Guy, Eric the Power Daddy, Oral the Scarlet Bitch, and The Question of questionable sexual preferences dish on what's geeky, what's hot, and what's not!
Podcast: Play in new window | Download (139.3MB)
Movies
We assemble our opinions on the new Avengers trailer! Cap shoots a machine gun, Tony Stark gets choke-slammed out a window, and Loki has a familiar looking weapon. Shooting, asphyxiation, and toys? You bet we loved it!
We also satiate our appetite for The Hunger Games, a nail-biting book series heading to the big screen next year. Also, the Batman: Year One animated movie gets a review on its dark, gritty, and loyal adaption!
Games
Our resident gay gamer Eric tackles Batman: Arkham City and X-Men: Destiny. One sucks and the other soars above all expectations! Bryan also weighs in on Children of Eden – a psychedelic shooter for the XBOX's Kinect!
TV
Our TV section is fit to burst like a bear in a jock strap! We discuss the debut of Once Upon A Time and American Horror Story, as well as the upcoming re-launch of Beavis and Butthead. But our old favorites are still around: The Ringer, Secret Circle, Terra Nova (okay maybe not so much a favorite…), Fringe, South Park, The Walking Dead, and Young Justice!
Social
Guess what!? Spock is gay! AKA the steamy, nerdy, hunky Zachary Quinto beams up out of the closet! Also hear about The Question's trip to New York Comic Con and Jarrod's terrifying trip to the Spooky Empire show!
The Question's Questions
We love our straight listeners and want to help them out, so we do our best when Nic has some girl troubles! We also get a question from Monkey, who wants to know why gays torture themselves by living with their ex-boyfriends!
If you have your own question about dating, relationships, nerd issues, or you can't get past the Water Temple in Ocarina of Time, then send an email to questions@flameonshow.com or post your question in the comments below so we can tackle it on our next show!
Music
We get down with Bjork's Biophilia, Peter Gabriel's New Blood, and then we are unnerved by Selena Gomez!
Comics
We spread out luscious indy love all over Near Death, Joe Hill's The Cape, and Locke and Key's special edition first volume! We spend a little time mourning Marvel's mess of Fear Itself, and then look to the future with the teased return of the Phoenix! I think Eric just died, went to heaven, and was reborn as flesh made fire! DC has us talking about our favorite of the second round of the DCnU 52! And WTF is up with Ultimate Comics Spider-Man's provocative covers? He's a child! A CHILD!
Oh hot damn – what a show! It's enough to get you hot and bothered, and with Lefty joining us, you just might get off!
Tracks:
Space is the Place :: Spacehog
Links
See more of Lefty Lucy at StoryBook Burlesque and Coney Island USA.