Nerdy Show 280 :: Nintendo Switch Wipe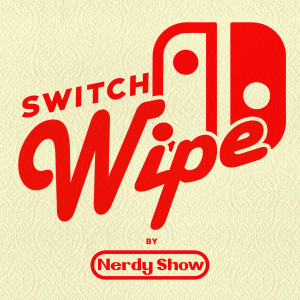 The Nerdy Show Network's flagship podcast unloads on the latest geek news and happenings!
The time has come to unpack all the new info on the Nintendo Switch, the Big N's hybrid console/ portable system that's simultaneously turning heads and plaming faces. For all the cool, quirky games and features the system has to offer, a lot of baggage comes with this new venture. And while, yes, we're going to dig through this baggage like the TSA, the hosts of Nerdy Show are also cautious about the forthcoming scourge of bathroom gaming to come. This isn't your personal handheld – this is a console meant to be shared, so you'd better pick up some of our patent-pending Switch Wipes!
Pop a couple Bennys and join Cap, boR, Doug, and Brandon for a antibacterial antics and sanitary discussions such as a review of A Monster Calls and the subscription service controversy surrounding the return of Cartoon Hangover's Bee and Puppycat and Bravest Warriors. And that's not all, o unsuspecting listener – we've got a new segment called Surprise Science with Jon – and you won't believe the many-eyed deluge of science facts we get when we give our sci-tech host an unprompted phone call.
Download from the player above | Subscribe via
iTunes
|
Soundcloud
|
audioBoom
|
Google Play
|
Stitcher
|
RSS
Discuss this episode on the forums
Track:
Support Nerdy Show!

Links: