Nerdy Show Interviews: Samurai Jack's Genndy Tartakovsky and Brad Neely's Harg Nallin' Sclopio Peepio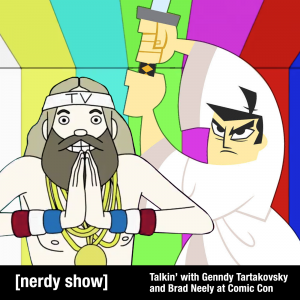 When The Nerdy Show Network's flagship podcast isn't unloading on the latest geek news and happenings, we're diving deep into super-specific discussions and interviews.
Coming to you from San Diego Comic Con, join Cap and Jess for press round tables with [adult swim]'s finest.  We speak with animation legend, Genndy Tartakovsky, creator of Samurai Jack and Sym-Bionic Titan, about Jack's return to TV on [adult swim] and what's in store for an older, wiser and more TV-MA Jack in his final adventure. We also roll deep with the creative team of Brad Neely's Harg Nallin' Sclopio Peepio including the eponymous creator and executive producers Daniel Weidenfeld and Dave Newberg who you may know from the exploits of Baby Cakes and The Professor Brothers over in China, IL.
Plus, get a preview of the other goodies in store as bonus features from Cap's summertime travel.
Download
| Subscribe via
iTunes
|
Soundcloud
|
audioBoom
|
Google Play
|
Stitcher
|
RSS
Tracks:
Support Nerdy Show!

Links: