Flame On :: Episode 116 :: Pulse Unbreakable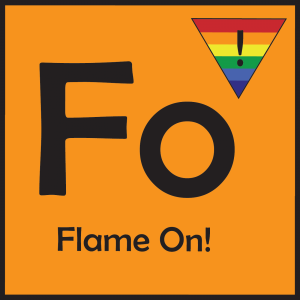 It's with heavy hearts that we bring you this special episode of Flame ON! dedicated to our friend, Drew Leinonen.
On Sunday June 12, 2016 around 2 a.m. a gunman opened fire in Pulse nightclub here in Orlando, FL. Thankfully our crew and everyone in The Nerdy Show Network is safe, but this senseless tragedy has sent shockwaves of sadness, anger, hurt, and rage through all of us in the LGBTQ+ community, Orlando as a whole, the United States, and the world. We had planned to record our normal episode on June 12th and that episode will be released in our normal spot, but we couldn't not speak out about this senseless act of violence. There has been no editing done to this audio. This is the raw and emotional reaction and stories of our family. We hope that you can listen in and mourn with us and please know that we are here to help and support you through this incredibly tough time.
If you are looking for a way to help, please consider donating blood if you are in the Central Florida area. They are in desperate need for O+ and O- as well as AB blood platelets. If you are unable to donate blood (as are all of us due to the FDA ban on sexually active gay men), then please consider donating to the official GoFundMe account set up by Equality Florida to help the victims who survived as well as the families of those who did not.
R.I.P. Christopher Andrew Leinonen – You were taken too soon, but will never be forgotten!
We are Orlando! We are Pulse! We are UNBREAKABLE!
Download from the player above | Subscribe via
iTunes
| 
Soundcloud
|
audioBoom
|
Google Play
|
Stitcher
|
RSS
Link:
Social Links:
About Bryan
Just a 30-something coder/musician/gardener with a penchant for all things gay and geeky. Creator/Host of the Flame ON! podcast!