Flame On :: Episode 162 :: Flame ON! Live at RockBar NYCC 2017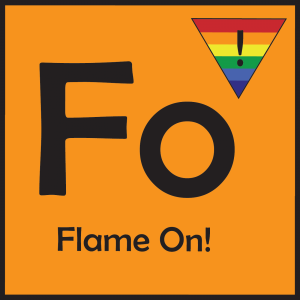 Flame ON! is the all-gay, all-geek podcast. Tune in as we dish on the latest in pop and queer culture!
Bryan and Pat are back from New York Comic Con and they're bringing the awesome directly to you! For the third year, Flame ON! has been a part of the programming leading to NYCC and we were very excited to bring our show to New York for one night only. If you weren't in New York on October 3rd, here is your chance to relive the fun we had! We did face some technical challenges, so bear with us and the audio, but nevertheless it was a great time! We were pleased to have Brian from SquareBears and Jay from Jay & Miles X-Plain the X-Men as our special guests. Our contestants for the evening included Bill from Comic Book Bears, Chris from Sci-Fi Explosion, RockBar trivia guru Rob, and longtime friend of Flame ON!, Ron! So sit back and be prepared to be transported back to RockBar on Ocbtober 3rd as we are LIVE FROM ROCKBAR!
All of this and more is waiting for you, so get ready to FLAME ON!
Download from the player above | Subscribe via
iTunes
| 
Soundcloud
|
audioBoom
|
Google Play
|
Stitcher
|
RSS
Theme:
Links:
About Bryan
Just a 30-something coder/musician/gardener with a penchant for all things gay and geeky. Creator/Host of the Flame ON! podcast!