Flame On :: Episode 154 :: What Have You Done Today To Make You Feel Pride?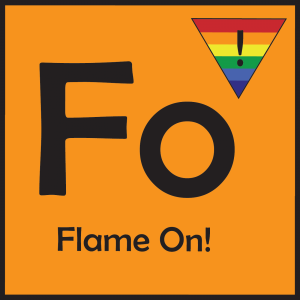 Flame ON! is the all-gay, all-geek podcast. Tune in as we dish on the latest in pop and queer culture!
Welcome to another episode of Flame ON! This month Pat is in the host chair joined by B.J., Jarrod, and our long-lost phoenix: Erik! We celebrate Pride Month by sharing our Gay Days and Tidal Wave adventures before digging deep into the controversy that surrounds the modified pride flag being flown in Philadelphia.
From there we move into the world of entertainment and discuss the Black Panther trailer and how AMAZING it made us all feel, upcoming TV revivals, the cancellation of Netflix's Sense8, some RuPaul chatter including the fan war that has erupted. We also dive into some spoiler-filled Steven Universe discussion and get into video game news with B.J.'s top pick from E3 and the new Dream Daddy game soon to be released! Finally, we dig into the latest from Marvel comics before closing it out with our 1-Ups for June!
All of this and more is waiting for you in this episode, so get ready to FLAME ON!
Download from the player above | Subscribe via
iTunes
| 
Soundcloud
|
audioBoom
|
Google Play
|
Stitcher
|
RSS
Theme:
Links:
About Bryan
Just a 30-something coder/musician/gardener with a penchant for all things gay and geeky. Creator/Host of the Flame ON! podcast!