Nerdy Show 288 :: Guardians of the Dewniverse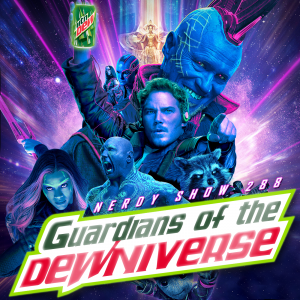 The Nerdy Show Network's flagship podcast unloads on the latest geek news and happenings!
If you crave the mysteriously exotic discussions of Nerdy Show, crack open this episode and experience a caffeinated deluge of uncanny topics. We share our spoiler-free thoughts on Guardians of the Galaxy Vol. 2, discuss the Bioshock-in-space creepiness of Prey, and the addictive properties of Ken Burns' documentaries… but that's far from all.
Join Cap, boR, Doug, and Brandon as we sample forbidden and peculiar nectars. Yes, we uncork all the unusual varieties of Mountain Dew that have hit shelves recently and perform sinister experiments. We also take on a listener-requested prompt and share our dream video games. As in: the games we would personally make, were the resources available to us. The results are as baffling and sinister as the myriad flavors of Dew…
Thanks to Joshua Westphal for the discussion topic.
Download from the player above | Subscribe via
iTunes
|
Soundcloud
|
audioBoom
|
Google Play
|
Stitcher
|
RSS
Track:
Support Nerdy Show!

Links: