Flame On :: Episode 146 :: Logan – Breath of the Moonlight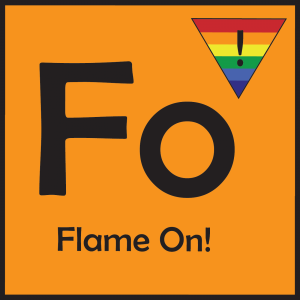 Flame ON! is the all-gay, all-geek podcast. Tune in as we dish on the latest in pop and queer culture!
We kick things off with a discussion of some interesting "In The News" topics including the Oscars flub heard round the world and the "oh my stars and garters there's a gay character in the new Beauty and the Beast movie" controversy that has conservatives clutching their pearls and vowing to boycott the movie. Speaking of movies, we touch on Logan (full microsode discussion forthcoming) before we dig into the psychological (and incredibly topical) Get Out from Jordan Peele – it's a very spoiler heavy review so be warned!
We move onto TV where we break down the good, the bad, and the over the top schmaltzy CW shows. From there we stroll through the immense and gorgeous open world that is Legend of Zelda: Breath of the Wild and you'll hear all about Bryan's adventure to acquire his Nintendo Switch. We also touch on some other video game news (including the new Steven Universe RPG) before we take our first listener question! Joel Bradshaw (@Thespispunk88) does the honors of popping our new segment and we can't wait for more.
And, of course, it wouldn't be an episode of Flame ON! without us dishing on comics. We touch on the end of Inhumans Vs X-Men and the upcoming ResurrXion (spoiler alert, Bryan HATED IT!) as well as America #1 and The Flintstones!
In place of our 1-UPs for the week we give our picks for #TryPod month! So, if you are looking for some new listening material check out what our crew is listening to and let us know what you think as well as what YOU are listening to! We'd also love it if you share our show with your friends with the hashtag #FlameON #TryPod!
All of this is waiting for you in this episode, so sit back and get ready to FLAME ON!
Download from the player above | Subscribe via
iTunes
| 
Soundcloud
|
audioBoom
|
Google Play
|
Stitcher
|
RSS
Theme:
Links:
About Bryan
Just a 30-something coder/musician/gardener with a penchant for all things gay and geeky. Creator/Host of the Flame ON! podcast!