Flame On :: Drag is the New Spandex :: Ginger and the Season 9 Tea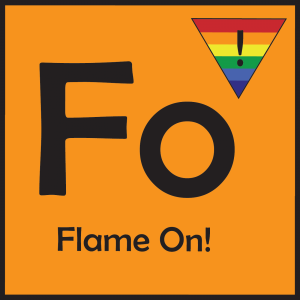 Flame ON! is the all-gay, all-geek podcast. Tune in as we dish on the latest in pop and queer culture!
Drag Is The New Spandex is back… and it didn't even take us that long! It's almost time for RuPaul's Drag Race season 9 to start, so that means that it's time for our unofficial third host, the fabulous Glamour Toad herself: Ginger Minj, to make an appearance and spill the (sweet) tea!
Oral and Pat are joined in studio by Ginger Minj as well as C.J. for what was supposed to be a simple conversation about Drag Race and then the rum punch happened. We kick off the episode chatting about what's new in the life of the Minj including some fantastic upcoming gigs including The Haters Roast – The Shady Tour and Tidal Wave here in Orlando as well as Drag Con where Jess Ketting will be our Drag Correspondent once again! From there we open up the floor and just start talking about anything and everything going on with the Minj!
We run down this season's contestants and Ginger gives us some insight about the queens she knows and some behind-the-scenes stories from this season's premiere party, which she hosted! Get to know more about the new queens before they hit your television screen and other fun stories thrown in the mix.
Grab your wig and heels and get ready to spill the tea with Oral and Pat as we bring you another fabulous episode of Drag is the New Spandex! 
Download from the player above | Subscribe via
iTunes
| 
Soundcloud
|
audioBoom
|
Google Play
|
Stitcher
|
RSS
Theme:
Social Links:
About Bryan
Just a 30-something coder/musician/gardener with a penchant for all things gay and geeky. Creator/Host of the Flame ON! podcast!