Dungeons & Doritos :: Rune Quest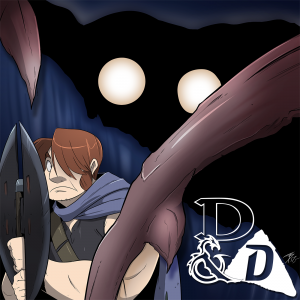 Embark on an adventure with Nerdy Show's epic RPG audio drama, Dungeons & Doritos!
Desperately seeking Dwarven magic? Better go on a rune quest!
Our party bravely ventures into realms where even Northlanders fear to tread in hopes of finding a Dwarf to do them a solid. So it's off to the treacherous, geologically active region called "The Dragon's Bed" to hunt for some answers. Unfortunately there's something much worse than geysers bursting from the ground:  an inexplicable horror is on the prowl and leaving puddles of corrosive goo in its wake. Good thing Jamela, Barty and Lefty brought along a new pal!
Introducing a musclebound duckbunny of a Northlander named Bogo; played by Ghostbusters: Resurrection's Doug Banks! If the party can just stop arguing long enough, they might be able to make it out alive.
Download from the player above ::
iTunes
| 
Soundcloud
|
audioBoom
|
Google Play
|
Stitcher
|
RSS
Episode art by Tony Baldini
Tracks:
D&D has an original score! Click the links above to download the tracks and support the artists.
D&D Merch:
Sagas RPG Links:
Chips Tasted:
Taco Doritos
Wild White Nacho Doritos
Supreme Cheddar Doritos
Cheetos Flamin' Hot & Doritos Dinamita Chile Limon
Doritos Mix Taco Explosion
Doritos Mix Cheese Explosion
Hot and Sour Taco – From Japan