Nerdy Show Microsode: The Films of Takashi Miike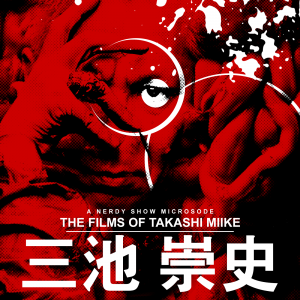 When The Nerdy Show Network's flagship podcast isn't unloading on the latest geek news and happenings, we're diving deep into super-specific discussions and interviews.
In this listener-requested episode we discuss the prolific Japanese director, Takashi Miike. Known best perhaps as a master of combining horrific gore and comedy, Miike's career spans and fuses all genres – from children's films to period pieces – and takes viewers into exciting new places just as often as he takes them to uncomfortable territory. Perhaps you've caught his acclaimed (and often censored) Ichi the Killer or maybe his live action adaptation of Phoenix Wright: Ace Attorney, but with nearly 100 films to his name, chances are, there's more to Miike than you know.
In this episode, Cap is joined by Jonathan and Andrew of Wicked Anime and Stevo of Friday Night Fanfiction to share their favorite films and provide an introduction to his work whether you're a longtime fan or only just getting familiar.
Thanks to Brian Schulman for this Microsode request!
Download from the player above | Subscribe via
iTunes
|
Soundcloud
|
audioBoom
|
Google Play
|
Stitcher
|
RSS
Track:
Support Nerdy Show!

Films & TV by Takashi Miike (In Order of Discussion):
Other Links: