Wicked Anime :: Episode 100 :: Maid RPG Special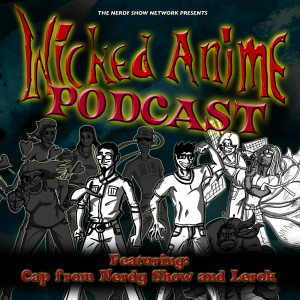 Wicked Anime brings you awesome animated commentary every other week… but this time, we're bringing you outrageous, improvised anime adventure!
For our 100th episode we're doing something drastically different. We're celebrating our podcasting centennial by returning to anime tabletop. Once before the Wicked Anime hosts transformed into cliche anime personas for a massive RPG adventure in B.E.S.M. (Big Eyes, Small Mouth), but this time we're switching genres and going kawaii; this time we're playing Maid.
Maid is a tabletop RPG where players become housemaids in a mansion – each of them simply looking to serve and appease the master as best they can. Andrew is the GM and Master of the house, Jojoshiro Kujo-sama (aka Jojo-sama), who lords over a motley crew of servants: albino, street-wise stoic; Jyu (Glitch), amicable amateur scientist; Amuso (Dillon), absent-minded guardian angel; Kaya (Jonathan), and valley girl sociopath; Hanbaga, aka Hanna (Nerdy Show's Cap). The girls vie for superiority against each other and a host of supporting characters played by Lerok, as they compete to see who will oversee Kujo Mansion.
Join us as we roleplay our hearts out for the master, yo! Character bios and more below.
Download | Subscribe via iTunes | Spotify |
Google Play | Stitcher | RSS
The Cast:
Artwork by Andrew Fleming
Master of the house, Jojoshiro Kujo-sama
Played by: Andrew Fleming
A semi-delinquent who is served night-and-day by his loyal maids on hand and foot.  He cares very deeply for his house and his maids, but not so much for his schoolwork.  Now that he is 18, he has been set up as a suitor to marry into a new family.
______________________________________________
Amuso
Played by: Dillon Hetrick
Amuso loves serving her childhood friend and master, Jojo-sama, almost as much as she loves science.  When brought into the family at a young age after the death of her mother, she decided to remain loyal to the Kujo family; meanwhile delving into whatever mad science she can get her hands on!
______________________________________________
Hanbaga, aka Hanna
Played by: Cap Blackard
Hanna is the illegitimate child of Jojo-sama's father.  Her whole life, she's had trouble finding her place in the Kujo family. Being a maid is the only life she's known and it's left her bitter and competitive. She'll squash anyone who gets in her way.
______________________________________________
Jyu
Played by: Glitch Wilder
An emotionless, albino maid – known to steal cars and pack some serious heat.  She's Jojo-sama's adopted sister and she knows what it's like to rumble when the going gets tough.
______________________________________________
Kaya
Played by: Jonathan Fleming
Jojo-sama's guardian angel, who became a housemaid for the Kujo family when she physically manifested herself.  She's absent-minded and very clumsy, but always 100% loyal to her master . . . no matter what.
______________________________________________
Gerard
Played By: Andrew Fleming
Head Butler to the Kujo family for many years.  He's about to retire and needs to find out which one of the maids will be replacing him, taking control of the household upon his departure.
*All other cast and NPC characters played by that guy from the filler episode a long time ago, Lerok!
______________________________________________
The Mansion: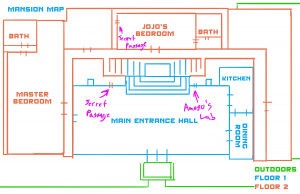 Welcome to the Kujo mansion, where the maids and Jojo-sama spend the majority of their time.  Full of secrets and jobs to do, the maids are busy maintaining the household 24/7.
Music:
Links:
Wicked Anime Links:
About Jon Jonstar
Jon is the Co-Creator and Co-Host of Wicked Anime, a video review show and bi-weekly podcast about anime and Japanese Culture! His nerd caliber goes far beyond just anime though, he is a movie fanatic, comic book collector, and real-life professional artist! When he's not editing video or audio, you can most likely find him at conventions, either on a panel or in the dealers room!