Nerdy Show Bulletin :: Weather Report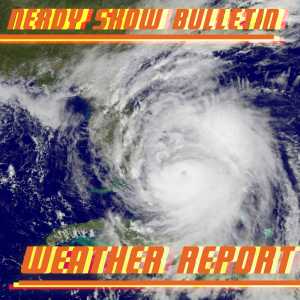 When The Nerdy Show Network's flagship podcast isn't unloading on the latest geek news and happenings, we're diving deep into super-specific discussions, interviews, and sometimes unexpected diversions… Like this one!
In this case the diversion was SUPER unexpected – even for us… and his name was Matthew. The hurricane looked like it was going to be a beast, but as luck would have it, it rolled through our town without being much trouble at all. We didn't even lose power! But what we did lose was time. All the preparations, followed by reverting everything to normal, killed our regularly scheduled programming.
Tune in as Cap recaps the happs and offers the latest on Liberty's quest for a Guinness world record, Nerdy Show's presence at North Carolina Comic Con, Lightning Dogs, and some exciting things going down this week – both online and on the windy streets of Chicago.
We'll be back with our regularly scheduled podcast next week!
Download from the player above | Subscribe via
iTunes
|
Soundcloud
|
audioBoom
|
Google Play
|
Stitcher
|
RSS
Track:
Support Nerdy Show!

Links:
Lightning Dogs Links: