Lightning Dogs: The Official Paw'dcast – Out Now!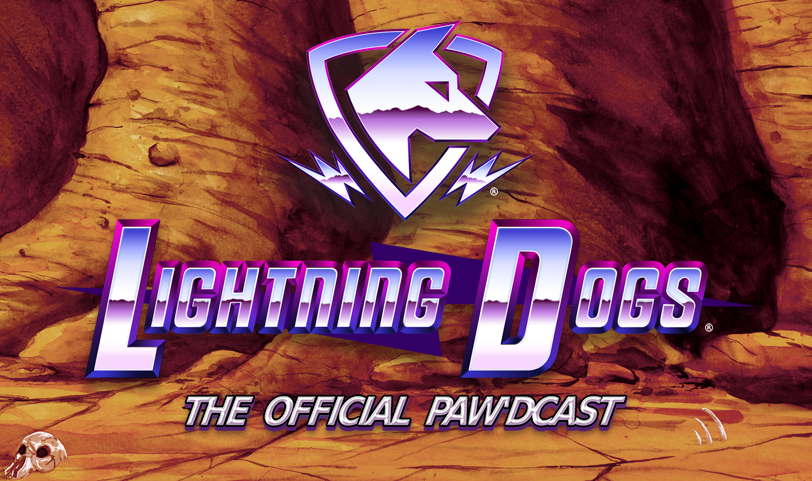 The time has finally come! Once again, The Lightning Dogs are unleashed! Back in 2013 we accidentally brainstormed a hybrid of all our favorite 80s and 90s cartoons and sci-fi during an episode of Nerdy Show. The result was a would-be animated series about anthropomorphic dogs from another world, trapped on a post-apocalyptic Earth. Armed with special powers and tearing through the Wasteland in their battle-ready vehicles, they combat the evil Glampire's minions and keep his vampiric reach from extending to the stars.
Sounds pretty cool, right? Well, we weren't the only ones who thought so. As soon as this episode came out, fans demanded more, and we found ourselves in the unique position of having captured the spark of an amazing idea at its birth, and the opportunity to document the entire journey. Journey to what? Why an actual animated series, of course.
Over the years we've recorded all of our sessions of character creation, world building, and general brainstorming of the LightningDogs universe, releasing some of them as episodes of Nerdy Show – but now we've launched Lightning Dogs: The Official Paw'dcast! We've re-released our original episodes in a new documentary format and in this on-going series we're continuing to chronicle Lightning Dogs' creation every other Monday.
Subscribe via iTunes | Soundcloud | audioBoom | Google Play | Stitcher | RSS>
We've also launched a Patreon just for Lightning Dogs. We've been hiring freelance artists, filing for trademarks, and taking other pricey steps to continue building this project, so it's high time we got some help. This Patreon will help us ramp up to that lofty goal of becoming an animated series and offer a unified place for fans of Lightning Dogs to connect with us as we continue production. It'll also help fund further production artwork, scripts, storyboards, potentially even full animation and voice work.
How serious are we? We're also raising funds to have our pitch bible reviewed by professionals from the animation industry, including Greg Weisman – creator of Gargoyles, co-creator of Young Justice. He's agreed to do it, but he can't do it for free.
We hope you'll join us in our quest! Check out the podcast series, scope out our artwork on our social feeds or in the video above,and let us know what you think! We wouldn't be here if it wasn't for fans encouraging us and showing that out silly idea was worth shaping our lives around.
Social : Forums | Facebook | Twitter | Tumblr | Instagram | FurAffinity | DeviantArt
About Cat
Cat is Executive Producer of The Nerdy Show Network as well as Lead Host of the titular Nerdy Show podcast and one of the site's founders. Her illustration, graphic design, and writing both journalistic and fictitious have appeared in various publications and public spaces.