New Podcast Series: The Orphans – A Cinematic Sci-Fi Audio Drama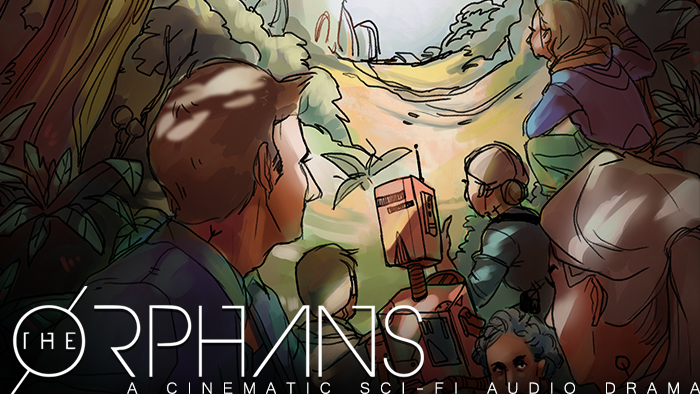 The Nerdy Show Network is proud to introduce a brand new series to our podcast roster: The Orphans.

It's a cinematic audio drama chronicling the castaways of downed starship, The Venture. They're stranded on a hostile planet, struggling to remember who they are and how they arrived. Mysterious creatures hunt them, and in this seemingly unpopulated world, a tower looms. The team, including an A.I., must not only fight for their lives, but learn to survive each other.
The entire first season is available now! Seven episodes, perfect for binge listening. You'll find them all below and in your feeds if you're presently subscribed to Nerdy Show Theatre or The Nerdy Show Network feed.
The Orphans is written and directed by Zachary Fortais-Gomm, who's recently joined up with the writing team for our other scripted sci-fi series, Liberty. So if you've been loving Critical Research or Tales From the Tower, you're sure to love The Orphans. This will be it for The Orphans for a bit, but there's some bonus features down the pike (available now, via BitTorrent Now), and the crew is gearing up for season 2, to be released episodically in 2017.
To keep abreast of the latest from The Orphans, you can follow them on Facebook, Twitter, and subscribe to The Orphans feepodcast d at the links below. You can also subscribe to Nerdy Show Theatre the one-stop feed for all our dramatic programming including The Orphans, Liberty, Dungeons & Doritos, Ghostbusters: Resurrection, and more.

Subscribe via iTunes | Soundcloud | audioBoom | Google Play | Stitcher | RSS
The Orphans Season 1:
Episode 1 | Episode 2 | Episode 3 | Episode 4 | Episode 5 | Episode 6 | Episode 7
Are you following Nerdy Show on Twitter, Facebook, Tumblr, & Google +?