Drag is the New Spandex :: RuPaul's Drag Race All Stars 2 :: Episode 5 – RuVenge!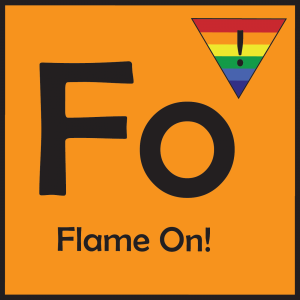 Flame ON! is the all-gay, all-geek podcast. Tune in as we dish on the latest in pop and queer culture!
It's a new season of RuPaul's Drag Race All Stars and Oral and Pat are back to dish the T with all of you! This is it, folks – the episode that we have been waiting for with baited breath since the end of the episode one!It's time for the eliminated queens to get their RUVENGE!!
After the drama of the last episode and the "face crack of the millennium" after Alyssa's elimination we get to find out what RuPaul's messages were all about. After some attempts to clear the air (which only serve to spread the shit even more) we find out that the eliminated queens will pick a partner and they've got to be funny for a chance to win their way back into the competition! The top two returning queens will be the ones to lip synch for the right to come back, but here's the twist: they will also get to send one of the bottom queens home! DUH DUH DUUUUUUUUH! Listen in for how the queens stacked up as they performed in front of a live audience filled with former contestants as well as our take on the winners and whether or not we agree with the latest queen to sashay away!
New episodes of RuPaul's Drag Race All Stars 2 air on LOGO and VH1 on Thursdays at 8pm, or buy a season pass on Amazon. However you do it, watch along with Flame On! and keep an eye out for Drag is the New Spandex every Monday, all season long!

Download from the player above | Subscribe via
iTunes
| 
Soundcloud
|
audioBoom
|
Google Play
|
Stitcher
|
RSS
Theme:
Social Links:
About Bryan
Just a 30-something coder/musician/gardener with a penchant for all things gay and geeky. Creator/Host of the Flame ON! podcast!