The Amazing New Force Awakens TIE Fighter Offers Insight Into the Film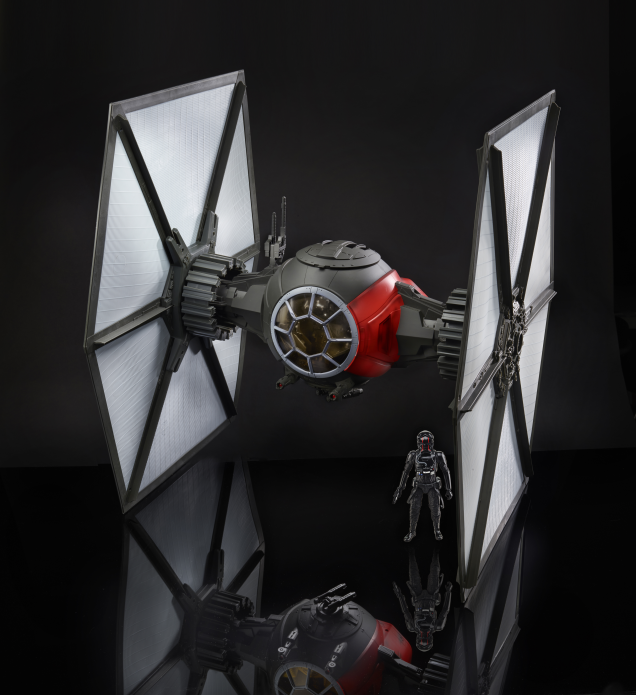 Hasbro unleashed some jaw-dropping Star Wars debuts for their super-detailed 6″ scale Black Series at Comic Con. Not only were we treated to a look at what the animated series characters from Star Wars Rebels would look like as real people, but we got a good look at Episode VII baddies The First Order's Elite TIE Fighter. Since we're known for "looking for news in Alderaan places", even these action figures offered insight into the new film.
Caution: minor spoilers below. Skip ahead for rad pictures of the new figures.
Back in March we presented an outline of the entirety of The Force Awakens on State of the Empire, our Star Wars speculation podcast. In it we mentioned that new character Poe Dameron (Oscar Isaac) and Finn (John Boyega) escape a First Order ship together and crash land a TIE Fighter on Jakku. Though we didn't bring it up, there was the small question of just how two people escaped inside the one-seat TIE fighter. Thanks to Hasbro, we not only know how, but our imaginations are running wild for just what it'll mean for an exciting sequence in the film.
These TIEs are two-seaters. Seen here is the reflection of the rear of the TIE, featuring the window for a rear gunner. According to a Hasbro rep, the two seats face opposite directions alongside one another. Just imagine the havoc of two characters trading quips back to back while blasting their way out of a hangar and firing from both ends!
Exciting film speculation aside, the figure and vehicle is truly awesome. The Elite TIE is perfectly to scale with the figures and it's HUGE – 26″ (see above for a size comparison next to Nerdy Show host Jess' normal-sized head). It'll to be released shortly after "Force Friday" – the day the first wave of Episode VII figures hit the stands on September 4th, and it'll retail for $169.99.
Hasbro set up a spectacular diorama depicting the escape sequence from the film:
Now that you've drooled over that, check out these no less cool, but much more affordable 
Rebels
figures featuring the first realistic renderings of Kanan and Ahsoka:
For more Star Wars news, be sure to subscribe to State of the Empire.
Are you following Nerdy Show on Twitter, Facebook, Tumblr, & Google +?
About Cat
Cat is Executive Producer of The Nerdy Show Network as well as Lead Host of the titular Nerdy Show podcast and one of the site's founders. Her illustration, graphic design, and writing both journalistic and fictitious have appeared in various publications and public spaces.