Season 2 of Rick and Morty is Going to Suck.
"Not since the second season of Heroes have fans ever been more disappointed," Dan Harmon, co-creator of the madcap sci-fi comedy, Rick and Morty, foretold during a panel at the ATX Television Festival.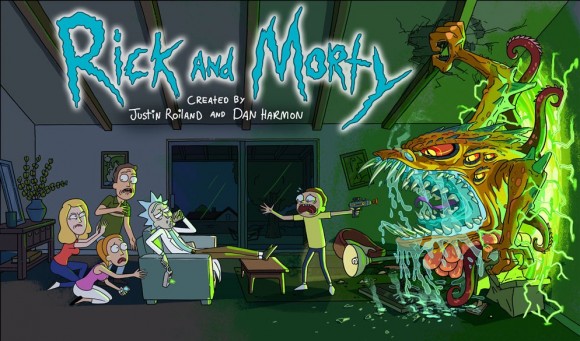 The truth of this statement remains to be seen; the new season doesn't air until July 26. However, aforementioned Dan Harmon, creator Justin Roiland, and writer/voice actor Ryan Ridley gathered on a panel of epic proportions to give an inside look into the making of Rick and Morty.
So what does creating an off-beat, successful show look like? Basically it looked a lot like the panel: a group of friends hanging out, making stuff, and putting it on TV. Watching the three interact paints a pretty clear picture of why the show is so awesome. Each brings a different dynamic to the team, and they just seem to get along so damn well, sprinkle in a love for what they do, and how could the show possibly suck? It also doesn't hurt that Roiland can spontaneously slip into Rick & Morty improv (he voices both characters) to test potential plots.
The trio described the process as turning conversations about horrible things into awesome things. And if you think about it, the show couldn't be described in a more perfect way. Horrible things happen to our characters (one of the best aspects of the show is that it shows the "dark side" of science fiction, highlighting those things that can go horribly awry), but you're still laughing – and you still want more.
Despite the self-deprecation, the team stated that they didn't realize how much fun the show truly was until making season 2. As a result, we can can look forward to more hijinks this season, including: adventures with Summer and Rick (because it's just so fun to see someone telling Rick what an asshole he is), Stephen Colbert voicing Rick's nemesis (a man just as smart as him), and Rick and Morty crashing the White House Situation Room.
Though unfortunately, life for poor Jerry will remain the same. When asked if Jerry would ever win, Ridley replied, "He might win a prize a midway carnival."
So be sure to tune into season 2 of Rick and Morty on Sunday, July 26 at 11:30pm on Adult Swim. And then be prepared to take your complaints to 4chan (where you can be sure Roiland will read them).
Haven't watched Rick and Morty yet? There's still time! Season 1 is on Bluray or digital.
Are you following Nerdy Show on Twitter, Facebook, Tumblr, & Google +?
About Jess
She's is just your average cat-herding, world-traveling, tech-loving otaku. She'll brazenly defend her love of Harry Potter and Sailor Moon to any who challenge it, and can usually be found under a stack of unread books and graphic novels.