Wicked Anime Podcast :: Episode 064 :: We're Really Smart!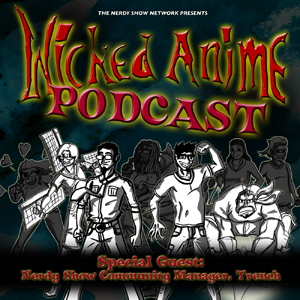 Wicked Anime brings you awesome animated commentary every other week!
We're long overdue for a moment to just sit back and reflect on at all the anime we've poured over throughout the years. There amount of crap we've consumed is startling. Enough that any sane person would ask, "why haven't you just given up by now?"
You know, those disembodied voices of reason may be right in some sense, but we just can't give up on the things we love. The first step toward healthy living is acknowledging the problems you have and deciding whether to love them or leave them. Anime, why must you challenge our love for you so?!
Join Jonathan, Andrew, Dillon, Sean, and Nerdy Show Community Manager, Trench as they talk about what's happening in anime and what made us almost quit the game, yo! PLUS – Enough media news for years to come, smelling the fresh air, and TWEET US YOUR LEGS!
Download, yo!
Music:
Links:
Art Blogs
Wicked Anime Links:
About Jon Jonstar
Jon is the Co-Creator and Co-Host of Wicked Anime, a video review show and bi-weekly podcast about anime and Japanese Culture! His nerd caliber goes far beyond just anime though, he is a movie fanatic, comic book collector, and real-life professional artist! When he's not editing video or audio, you can most likely find him at conventions, either on a panel or in the dealers room!