Wicked Anime LIVE! :: Hardcore Anime at The Geek Easy

Join the cast of Wicked Anime for a night of the GORIEST and most VIOLENT anime and Japanese film you've ever seen!
This ain't your Pokymans! This is Wicked Anime's beloved 18+ panel that has packed the house at Anime Boston and now those bad boys are bringing it to Orlando at A Comic Shop's Geek Easy on Saturday, June 27th. While your eyes feast upon the most intense visuals Japan has to offer, we'll be bringing you the best, most absurd anime commentary we know how. You might even learn something! How many organs can YOU name?
This event is 18+, but if you're 21+ and stout of heart you can take Hardcore Anime to a new level: THE HARDCORE ANIME DRINKING GAME!
Curious what you'll be in for? Check out this wicked awesome commercial:
Looking for more reasons to attend? Get a snake peek by checking out the
highlight reel from Hardcore Anime 2014 at Anime Boston
.
Bring your ID and brace your liver. Doors open at 7:30, yo! RSVP here.
Saturday, June 27th at The Geek Easy: 114 S Semoran Blvd Suite 6 Winter Park, Florida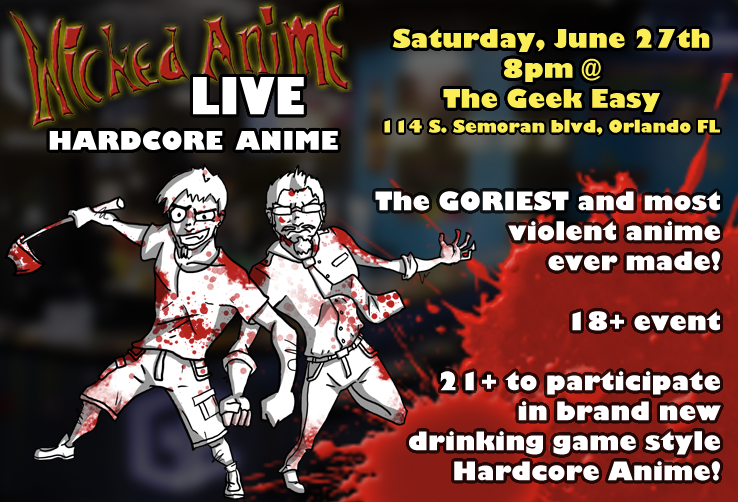 About Jon Jonstar
Jon is the Co-Creator and Co-Host of Wicked Anime, a video review show and bi-weekly podcast about anime and Japanese Culture! His nerd caliber goes far beyond just anime though, he is a movie fanatic, comic book collector, and real-life professional artist! When he's not editing video or audio, you can most likely find him at conventions, either on a panel or in the dealers room!