Atomic Robo is Now a Webcomic! Fund it on Patreon
Atomic Robo, the "World's Greatest Science Adventure Magazine", is a "magazine" no more! The indie comic fave of many hosts and fans here on Nerdy Show, is going fully digital – reborn as a webcomic. Robo co-creators Brian Clevinger and Scott Wegener are not only posting all future action-packed volumes directly to the Internet, but they're also publishing the entire series online… for free!
In order to fund this epic venture, the two have launched the Atomic Robo Patreon where myriad perks await you.  Check out this video outlining the entire campaign:
Have more questions about what all this means and what's in store?  Well, you can read their "
State of the Robo
" address
or
you can check out our interview with Brian and Scott on
the latest episode of Nerdy Show:
Wait – you still have
even more questions
? Well –  We publish a behind-the-scenes podcast with Scott and Brian called
Atomic Robo: Nuts and Bolts
! Just hit us up on the
official forum thread
and we'll answer your questions in an episode!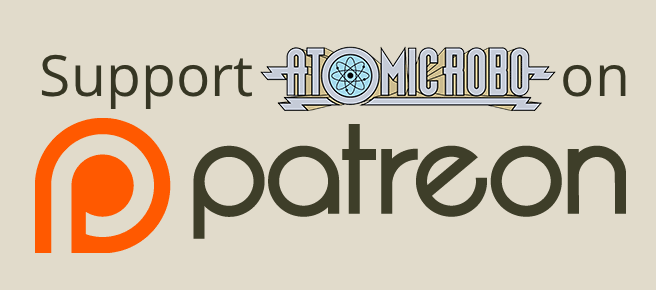 Are you following Nerdy Show on Twitter, Facebook, Tumblr, & Google +?