15 Shows You Could be Watching on Nick Reboot RIGHT NOW!
Many of my friends wax poetic about the 80's. Not me. I'm a 90's kid through and through. And Nickelodeon programming plays a HUGE part in my nostalgia. Now, thanks to Nick Reboot, I no longer have to rely on nostalgia – I can watch my favorite 90s Nickelodeon shows anytime I want.

It's a 24hr streaming service with a full library of the classics. "What classics?" you ask? In case you were living under a rock, or have forgotten how awesome the programming was, or are too young to know any better – here are 15 shows you could be watching on Nick Reboot right this moment.
Legends of the Hidden Temple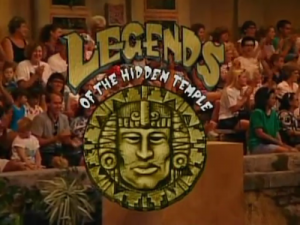 Not gonna lie…any time I was at a McDonald's Play Place as a kid, I pretended I was competing in Legends of the Hidden Temple. If I ran into other kids, they were the temple guards, and if I made it out of the Play Place before my mom called for me – I won.
There was no obstacle course show for kids more brutal than Legends of the Hidden Temple. It's a safe bet any kid that actually competed was emotionally scarred as it was near impossible to win. Nevertheless, challenging Olmec's temple is something we've all dreamed of and I lived vicariously through each team as they struggled through. Green Monkeys, FTW.
The Adventures of Pete & Pete
The Adventures of Pete & Pete is an amazing, surreal show that marked a whole generation of "weird kids". I'm going to leave it to Cap, who will be attending the Pete & Pete reunion in Chicago to tell you why it was so amazing…
Surreal is right, but in a way that makes perfect sense to kids. Pete & Pete is a show about two brothers, both named Pete, their small cadre of neighborhood friends and enemies, and the strangeness on the fringes of normalcy – as only a young mind can understand it. It's about going on adventures with your own local superhero, Artie "The Strongest Man in the World", it's about the deranged and love-lorn bus driver having a child-endangering meltdown, it's about your favorite masked ice cream man one day disappearing – and struggling for answers in a world that has few. Plus it has the best TV soundtrack of the entire decade. Simply put: it's the best so-called "kids show" ever made. It's magical, and unlike childhood, it lasts.
Are You Afraid of the Dark?
To this day, I can't look at the ripples made by automatic pool cleaning jets without thinking a ghost is attempting to drown me. That's the kind of lasting terror Are You Afraid of the Dark? serves up. I don't care who you are, most episodes were pure nightmare fuel. And it didn't matter if you were watching at night on SNICK or in the middle of the afternoon – still terrifying no matter the environment!
Salute Your Shorts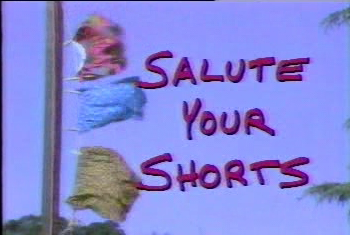 "Camp Anawanna, we hold you in our hearts, and when we think about you – it makes me want to fart!" With opening lyrics like those, who doesn't love Salute Your Shorts?
The show only ran from 1991 to 1992, but was frequently rerun throughout the 90s. Every kid either created similar camp shenanigans of their own or wished they had the balls to pull off the same pranks as Ug and Donkey Lips (I fall into the latter). Salute Your Shorts is the show that best embodies Nickelodeon's classic live action series.
Guts
"D-d-d-do you have it?"
I was never the type of kid people would call "athletic".  Heck, I used to fake cramps to be taken off the soccer field and was once asked by a friend if I quit dance lessons because "I danced like a penguin".  But even still, I loved pretending I was on an episode of Guts. Climbing the Aggro Crag and coming home with a piece of the mountain was an achievement worth dreaming about (from the safety of your couch). Plus, in later seasons it went "international," giving us American kids the chance to make rivals out of kids in other countries – it was our very own Olympics.
Doug
Doug represented the best parts of life as a kid: a best friend who never leaves their side, a sibling they were embarrassed of, a secret crush, a bully that picked on them, and the fictional character they dreamed they could be. While the plots were usually outside of the realm of possibility in real life, it always felt relatable. One of these years, I will be Judy Funnie for Halloween. (OMG let's be Judy Funnie together – she's my role model. -Cap)
Nick Arcade
Nick Arcade was a short-lived show, lasting only one season in 1992, but ask any kid who caught it in the 90s – it was amazing. Contestants competed in video game challenges both at cabinets and in live action "virtual reality" games for a truly unique and totally rad "90s" experience. Though I may be biased here because I got to compete on the set as part of a show at Universal Studios Orlando…
Clarissa Explains it All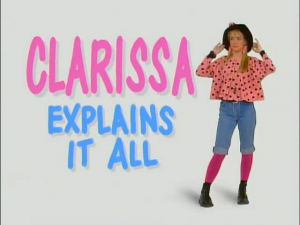 Oh, Clarissa Darling. Growing up, I wished I was as cool as you. I related to your pre-adolescent woes, and wished I had a cute male BFF that frequently crawled through my bedroom window. Clarissa Explains it All is a fun and funky slice-of-life sitcom that is one of the few female-centric shows in the genre that united girls and boys alike because she was just that awesome.
Figure it Out
Figure it Out, hosted by the amazing Summer Sanders, aired from 1997 to 2000. The show featured celebrity panelists from shows like All That, Kenan and Kel, and Guts competing to be the first to correctly guess the contestant's secret talent. If the panelists weren't able to guess the kid's talent, the contestant would win sweet prizes like a Nintendo 64, and all-in-one game table, or a gift certificate to Kids Foot Locker or Toys 'R Us. But what really made the show was the "Secret Slime Action." During this event, if any panelist performed the action designated as the "Secret Slime Action" they got slimed. There was just something amazing about seeing your favorite Nickelodeon stars get slimed for random, mundane actions. AND you got to watch the sliming twice via the Slime Cam!
Rocko's Modern Life
In revisiting Rocko's Modern Life as an adult, it's amazing to see how dirty the show actually was. Revisiting the show now is a completely new experience. But at it's heart, Rocko's Modern Life is still an off-beat, delightfully random, animal character sitcom that aired as a "kid's cartoon" but never pandered to the demographic. Specifically, the show parodied "adult problems" that you had only heard grown-ups complain about: annoying neighbors, terrible bosses, evil mega-marts, and non-functional products.
Double Dare
To be fair, Double Dare had many incarnations: Double Dare, Family Double Dare, Super Sloppy Double Dare – but I'm going to loop them all into one for the purposes of this post. The show defined Nick's generation of wacky challenges and gross-out gooping challenges. I distinctly remembering watching episodes where contestants needed to find flags in a giant nose and thinking, "Where the heck did they come up with this challenge?!" While Double Dare's competitions frequently humiliated contestants, for some reason you always found yourself wanting to compete on the show.
The Secret World of Alex Mack
Thanks to The Secret World of Alex Mack, I often wished that I would get drenched with an unknown chemical. After all, that's where superpowers come from! And leave it to the show to convince me that turning into a puddle of liquid wasn't completely lame (though admittedly her telekinesis and electricity zapping were pretty kick ass). But while Alex lived in a fictional sci-fi world, she still dealt with normal adolescent woes. In a way it put things in perspective: I may have dealt with similar issues but at least I didn't randomly glow or have to hide from a chemical plant. Added retro-active bonus: Jessica Alba plays Alex's bitchy rival.
Hey Dude
Technically Hey Dude started airing in 1989. BUT since reruns were played on Nickelodeon until 1999, I'm still counting it. Another classic live action series in the same league as Salute Your Shorts, this one about the trials and tribulations of a family dude ranch. For the average kid, Hey Dude represented everything we had to look forward to as adolescents: crushes, summer jobs, and additional freedom from parents. Plus, Ted was totally dreamy.
All That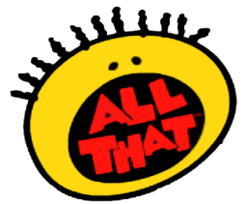 While the grown-ups had Saturday Night Live and MadTV, we had All That. As a skit comedy show for kids, it delivered the funny and immature sketch comedy that pre-teens craved. It gave us our own "inside jokes" to use with friends, like: "SHHHH! THIS IS A LIBRARY!" and "Welcome to Good Burger, home of the good burger, can I take your order?" And, we also learned a bit of French thanks to Pierre Escargot.
Wild & Crazy Kids
Pretty much all of us participated in Field Days in school. Wild and Crazy Kids was like a Field day on steroids. Teams of kids competed in physical challenges that included three-legged soccer and human Space Invaders. While Guts featured the athletic, Wild & Crazy Kids featured challenges that you felt that, even as an average kid, you had a chance to hold your own.
Nick Reboot offers a live stream of programming that you can sit back and soak up, or you can view their entire archive at your leisure via some very reasonable on demand subscriptions. What shows are you most excited to reconnect with or check out for the first time?
Are you following Nerdy Show on Twitter, Facebook, Tumblr, & Google +?
About Jess
She's is just your average cat-herding, world-traveling, tech-loving otaku. She'll brazenly defend her love of Harry Potter and Sailor Moon to any who challenge it, and can usually be found under a stack of unread books and graphic novels.