Wicked Anime Podcast :: Episode 045 :: A Great Episode for Segues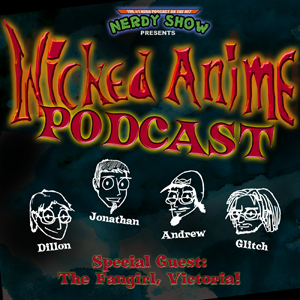 It's time we start asking questions that make you think. Do you like knowing the original media an adaption comes from? Do you avoid remakes if you haven't seen the original? All this and more today, on Wicked Anime! All aboard the bandwagon! This episode we talk San Diego Comic Con, play some new games, and we've even kept all the Steve Harvey jokes in!
Join Jonathan, Andrew, Glitch, Dillon and the fangirl Victoria as they talk about what's happening in anime and how the book was better!
Music:
Links:
Art Blogs:
Wicked Anime Links:
Podcast: Play in new window | Download (72.3MB)
About Jon Jonstar
Jon is the Co-Creator and Co-Host of Wicked Anime, a video review show and bi-weekly podcast about anime and Japanese Culture! His nerd caliber goes far beyond just anime though, he is a movie fanatic, comic book collector, and real-life professional artist! When he's not editing video or audio, you can most likely find him at conventions, either on a panel or in the dealers room!