Nerdy Show Network – Weekly Review: 15-21 February 2014
It's a Nerdy Show Community Update! A weekly review of the latest Nerdy Show happenings by Community Manager, Trench!
I'm sure it has been noticed that it's been a pretty slow week for Nerdy Show content. The latest episode of Nerdy Show LIVE (coming next week) and the Nerdy Show Comic Show LIVE with Charles Soule were the big focus for this month, and to make them the best they could be other projects had to be put on hold. Now that the live events are finished, people are recharging and things like recording the Call of Cthulhu RPG one shot, convention planning and details for the Greg Weismanathon are being taken care of.
-Coming Soon-
:: Convention Appearances ::
MegaCon: March 21st-23rd in Orlando, Florida. Nerdy Show has a Indie Press Booth and a panel:
Potions, Proton Packs, and Pokéballs: Adventures in Tabletop RPG Podcasting! March 22nd from 5:00pm – 5:50pm in Room 312
Space Coast Nerd Fest: April 12th in Melbourne, Florida. Nerdy Show has a booth and is looking to present the next Nerdy Show LIVE as a panel!
Moogfest: April 23rd-27th in Asheville, North Carolina.
E3: June 10th-12th in Los Angeles, California.
Heroes Con: June 20th-22nd in Charlotte, North Carolina.
San Diego Comic Con: July 24th-27th in San Diego, California.
:: Monthly Support Drive Events  ::
Greg Weismanathon: Look for this the weekend following MegaCon – Saturday, March 29th. Greg Weisman himself has given us a list of his works that are especially near and dear to him.
Call of Cthulhu RPG One Shot: The recording is finished and there's so much audio it's maddening. The time of the Old Gods awakening draws near.
-This Week's Content-
:: Wicked Anime ::
Podcasts:
It's Black History Month, so the guys discuss black anime characters and the influences of black culture on anime and Japan.
Wicked Anime Podcast :: Episode 034 :: It's Okay, We Have a Black Friend!
:: Flame ON! ::
Podcasts: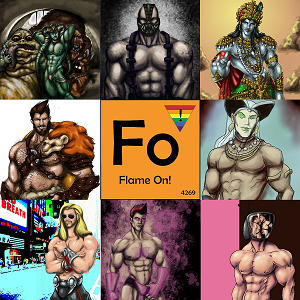 The 50th fabulous episode of your favorite flaming podcast!  They discuss The LEGO Movie, the latest season Sherlock, the end of American Horror Story: Coven, the controversy around the 2014 Olympics in Sochi, and all the latest news and excitement in the worlds of Marvel, DC, Image.
:: Nerdy Show ::
Web Comics:
A Comic Strip 8: 20 Issues and an OGN!

About Trench
Nefarious Summoner of Eldritch Horrors from Cyberspace, Trench is Nerdy Show's Community Manager. He can be reached at Trench@nerdyshow.com