Awesome Nerdy Gift Guide :: 2013 Edition
Tis the season of gift-giving.  Whether you're shopping for a dear friend, cool family member, the special nerd in your life, or even yourself – the stuff you buy has to be awesome.  Your street cred demands it.  To help you on this quest (and to see if we can make some Yuletide scratch via linking to cool stuff) we've created a list of our favorite stuff that's come out this year.  Stuff we'd totally buy for ourselves and in some cases already have.
The added bonus of buying stuff off this list is it does indeed give back.  If something links to Amazon, then Nerdy Show gets a small percentage of the sale (for more info on that and links for our UK and Canadian fans click here), and if it doesn't go to an Amazon page then the merch therein is made by awesome people who we love.  Spreading good tidings and getting cool thingamajigs – if that isn't the reason for the season, then Santa Claus died for nothing.
The list features Video Games, Tabletop Games, Movies, Music, Books, and Apparel & Home Goods.  If none of that does it for you, you can always head over to the Nerdy Show Store – that's always a good idea.
_____________________________
Video Games
Let's face it, it's time you bought a WiiU.
Don't believe us? Hear us out: if you haven't ponied up for an X-Bone or PS Quatro, great!  There's really not a lot going on there yet.  Wait until they ship without bugs and get some serious games on there. Now is the time for WiiU.  The system has finally come into it's own and has possibly the best game you'll play all holiday season, Super Mario 3D World.  Plus it comes in two sexy, incentivising bundles:
Special Edition Wind Waker HD Bundle                  |                 Super Mario Bros. U/ Luigi U Deluxe Set
The games that come with those bundles are reasons enough (especially if you've never played Wind Waker) but here's what you want:
DOWNLOAD EARTHBOUND.  We can't link to where you do that, just get the WiiU and make it happen. This is why the WiiU is great.  Earthbound finally came to the states because of WiiU's unique social spaces where fans can nerd out about their favorite games together. Fans took action, and now we can finally enjoy one of the greatest games ever made and the biggest cult hit video game of all-time!  It's a surreal RPG set in modern times with psychic abilities instead of magic and an insane sense of humor.
Mario 3D World is one of the best Mario games in a very, very long time.  It's like they listened to our complaints about the last 10 years of titles!  This game takes all the best elements of Mario Galaxy, New Super Mario Bros., and Mario 3D Land and discards the bad for an experience that has more in common with Super Mario Bros. 3 than any game since.  Now hold your nostalgia rage – we're not saying it's better or as good as, but it definitely comes close to recapturing the exciting feeling of Mario 3. 3D World is immediately more challenging than past games have been, Mario's world looks amazing in HD, Bowser Jr. is nowhere to be seen, and here's a big deal: you can play as Peach.  As in: SHE DOESN'T GET KIDNAPPED!  Yeah, the story isn't anywhere as dramatic as say, Bowser's assault on the Mushroom Kingdom in Galaxy, but a fan-favorite character is finally back in the spotlight.  And one more thing: not only did Nintendo win the internet by sticking the cast in Cat Suits, but there's an awesome array of power-ups including the Double Cherry which multiplies your character for each one you eat!  Get it!
_____________________________
The Legend of Zelda: A Link Between Worlds
We haven't played it yet, so we can't attest to its awesomeness first hand. However, it's a classic top-down Zelda game set in the same timeline as A Link to the Past – one of the greatest Zelda games ever!  The 3D features look clever, if not amazing. Really, if playing a new Zelda game over the holidays doesn't sound perfect to you, well, maybe you were a Sega-only kid.  Sorry. Get it!
What's more, if you haven't gotten in on the 3DS train yet (and you really should) there's a special edition Gold Triforce 3DS bundled with the game!
_____________________________
Adventure Time: Explore the Dungeon Because I DON'T KNOW! – Collector's Edition
Last year's Adventure Time game from publisher D3, Hey Ice King, Why'd you steal our Garbage?! was a super fun game – based heavily on the playstyle of Zelda 2: Link's Quest. This one seems to use Diablo as it's gameplay basis.  If you're an Adventure Time fan and a fan of dungeon crawlers, this is a sure bet!  The collector's edition comes in a BMO-shaped tin and includes a bonus DVD of behind the scenes stuff and an art book. The regular edition is also on 360 and WiiU, if that's your spice.  3DS | Xbox 360  | WiiU
_____________________________
Tabletop Games
This is THE wallet for the tabletop gamer.  There can be no others.  On the outside: a cool design of various dies. On the inside: grids for stats, notes, and a character portrait!  Fold up a sheet of your multipliers, spells, etc., stick it in one of the wallet pockets, and you're good to game on the go!  You are a traveling adventurer! Check out this article featuring some of the wallets put to use.  Added bonus: this is a Mighty Wallet. It's made out of Tyvek – an enchanted substance like leather and paper at the same time.  It's crazy-durable and basically waterproof.  Get it!
_____________________________
Magic The Gathering: 2013 Theros Holiday Gift Box
Something for the Planeswalker closest to you (especially if they play green).  A sexy box big enough to store 2,000 cards packed with some yummy incentives to get back in the game: 4 booster packs from the latest set: Theros, 20 basic lands to make sure you're never mana-screwed, and an exclusive version of Karametra's Acolyte, only available in this set. It also comes with illustrated dividers and such to keep your card horde organized!  Get it!
_____________________________
Movies
It's the best movie of the year, or at the very least the nerdiest.  Guillermo Del Toro's Pacific Rim is so good that Metal Gear creator Hideo Kojima personally endorsed it as the movie fans of giant monsters and/or robots have been waiting for all their lives.  What's more, you don't even have to be a fan of giant monsters and/or robots to love it.  It's a movie with all the trimmings of a summer blockbuster: insane effects, explosions everywhere – but it doesn't treat you like an idiot! Pacific Rim gives character and amazing depth to a world where giant monster invasions are the norm.  It's easily our must-watch movie of the year.    Regular Edition  |   Collector's Edition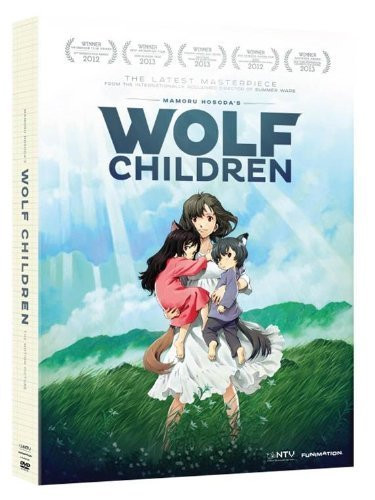 Looking for something animated? How about animation with genuine human emotion? Holding the reputation of 'The next Miyazaki,' Mamoru Hosoda's third masterpiece, Wolf Children, is a deep character driven story that will have even the toughest dude spilling his man-tears. Follow a family with an odd secret as human mother, Hana, raises her werewolf children, Ame and Yuki who will grow up to either be wolves or humans. The emotional twists and turns of this film are intense, and what's Holiday times without some feels? Get it!
G
uilty of claiming to be an action/sci-fi movie fan and not owning this movie?  Judgement is six months in the iso-cube.  Case dismissed.
We're not kidding – Dredd is destined to become a cult classic. It may not have broken any records at the box office during it's release, but it's found a huge fanbase on dvd. One that's so passionate, the original comic's publisher (2000 A.D.) has started an official petition for a sequel. The petition was so popular, they even created a sequel comic book to the film. That's right. The film that was based on a comic book was so good, it got its own comic book sequel.  This isn't just another comic book cash in, or some kind of weird "reboot" of the Stallone film – this is a high quality dystopian suspense thrill-ride crafted by some of the nerdiest talent in the industry. Get it.
_____________________________
Music
Marc With a C's "Holiday Vinyl Bundle"
We're big fans of nerdy indie rocker, Marc With a C – that's why he's got a show on the network, The Real Congregation.  Well, this package gives you all five of his records pressed on vinyl at a ridiculous price!  60 songs, 6 discs, $25 off!  Cap from Nerdy Show designed one of them!  The bundle includes: Popular Music, Motherf-kers Be Bulls-ttin', RetroLowFi, Normal Bias and Pop! Pop! Pop! and all the proceeds go towards releasing Marc's new live record. Available from now until December 20th, 2013.  Get it here!
_____________________________
Comics
Pacific Rim: Tales From Year Zero
Remember all that stuff we said abut Pacific Rim up in the movie section?  Well, the world gets bigger.  If you or someone you know is a Pacific Rim fan – you need this book!  It's an anthology of stories from the world of the film set during the first year of the Kaiju attacks. All the stories are written by the film's screenwriter, Travis Beacham, and it's likely to be the first of many books, because Beacham and Del Toro have lots of notes about the world that they won't be able to explore on film.  Check out our interview with Travis Beacham here to learn more about that and get this book!
_____________________________
How to Archer: The Ultimate Guide to Espionage and Style and Women and Also Cocktails Ever Written
It is so crazy-amazing that Archer lasted past its first season. That isn't a slight – it's just a sigh of relief  given how often brilliant animated series aimed at adults tends to get cancelled.  Archer is one of the funniest shows on television. If you're spending time watching sitcoms like The Office, or even Community – Archer makes watching those shows seem like you're wasting time.   It's killer cleverness from the team that brought you Sealab 2121 and Frisky Dingo. And this book, this is the perfect accessory for the attache case of any Archer fan.  Not an Archer fan yet?  Let's fix that.  Boosh.
_____________________________
X-Files Comics (Season 10 & Classics)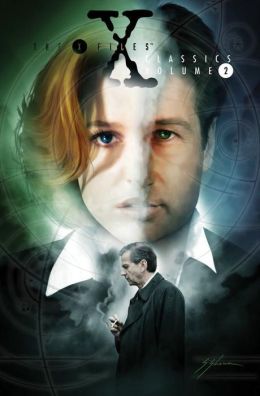 X-Files fans rejoice! The television series is being officially continued in comics form like Buffy and Smallville before it.  Season 10 is a must-read for any X-Phile, and the first collection comes out just before Christmas. Get excited – 'cause we're interviewing the team behind the comic, including series creator Chris Carter, very soon!  Get season 10 here!
X-Files Classics: Originally published by Topps in the 90s, IDW has collected the original X-Files comics. The stories are well-loved by fans and features art by the Walking Dead's Charlie Adlard and stories by Xombi's John Rozum.  Classics Vol 1  |  Classics Vol 2  | Classics Vol 3
Never watched X-Files? The truth is out there, friend- And it's at a surprisingly low price!  Watch one of the greatest TV series of all time and both the movies for just $179!  Get it here!
_____________________________
Apparel & Home Goods
We love these guys.  Formed from the Earthbound fan community, Fangamer is a design house dedicated to the ultimate celebrations of your video game fandom in the classiest way imaginable.  They create t-shirts, mugs, posters and more featuring original designs inspired by some of the greatest games of all time: Chrono Trigger, Earthbound, Donkey Kong Country, Metal Gear… the list goes on.  We get nothing from you following these guys links – we just think they're great and honestly, we do a lot of holiday shopping with them.  Go to Fangamer!
Fan Art Glassware & Illuminated Lion
Nerdy Show's sci-tech correspondent Jon and our culture correspondent Krisitn run an etching company.  Drinking glasses, clocks, Christmas ornaments, and more! Want cool original designs? Head over to Illuminated Lion.  Want awesome nerdy designs inspired by your favorite pop culture?  Head over to Fan Art Glassware!  They also make Dungeons & Doritos glasses: Pint | Shot