RPG From Scratch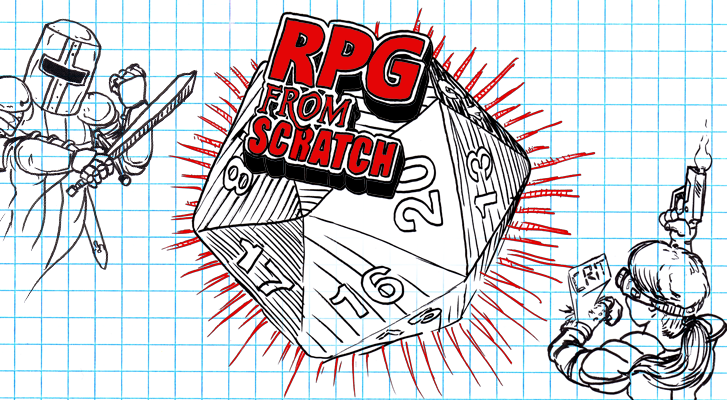 Download and Subscribe via  Apple Podcasts  |  Spotify  | Google Podcasts  | Radio Public  |  Stitcher  |  RSS 
Social : PATREON | Podchaser | Wiki | Facebook | Twitter | Instagram | Twitch
Ever wanted to create your own tabletop RPG? Imagine it: a gleaming, glorious system combining everything you love about gaming and dropping the crap you can't stand. Join us on a D.I.Y. docu-quest for tabletop roleplaying perfection as we design, test, and rebalance our own RPG From Scratch!
Follow this misfit band of homebrew hombres as they chronicle their tabletop trials and errors, grapple with game design, explore the art of mechanics and storytelling, adventure through epic playtesting campaigns, and inch ever close to building a roleplaying game that meets all of their needs with the end goal of sharing it with the world. New episodes every Monday.
Meet the least-loved group of Marshals in the empire. Sent to a backwoods town as a hammer to crush rebellion, they soon discover that nothing is as it seems, and their arrival was just one cog in a jumped-up moron's master plan.
Meet The Wing Mob, a small mercenary band on their way to deliver their boss' remains to her native sea. Passing through the Countryside of Galthreach, things are tense. There's a civil war on and the busiest merchant corridor has been disrupted by disappearances – neither side knows why. In an effort to make some much needed scratch, Wing Mob quickly become involved in an eerie and highly clandestine contract to escort a strange man down that very route.
Do Wing Mob have what it takes to rebuild, or will the loss of their leader and disarray under the new administration bring their destruction on this dubious mission?
An enormous underground structure has impeded the expansion of the insectoid country of Badherost. Working with the above-ground country of Neffar, they assemble a team of Adventure Archaeologists. Tasked with finding an entrance into the structure in the middle of a dangerous forest on the border of multiple unfriendly peoples, they find themselves in the middle of tribal warfare, at odds with a fundamentalist cult of wizards, battling giant fauna underground, and discovering the terrible secrets left by the ancients. They soon discover that neither friend nor foe is safe from the sins of the past.
Meet the Cast
Josh La Forge – The Tank
Armored to the teeth and strong as an ox, Josh keeps the party safe by deflecting dangerous topics and protecting good ideas behind his shield. When he is not adventuring, he enjoys lifting heavy things.
Doug Banks – The Rogue

Hides in the shadows away from the rest of the group – landing unseen strikes of comedy as attacks of opportunity. Able to shift out of danger and blame it on a bad internet signal. When not backstabbing, Doug uses his high Influence stat to convince people of the existence of ghosts and record the fallout.
Maxx Wessel – The Wizard

Maxx rocks a cloak like he stole it. Schooled in the many histories, his knowledge of useless novelty spells is unmatched in each of the nine magical realms. Banned from Lemuria and Atlantis, he consoles himself by reading alternate history books in which magic does not exist.
Liam Malone – The Cleric

Worshipful of nothing but the flesh, Liam repairs party injuries in the most uncomfortable ways possible. He carries a mace made from a bust of his own likeness and revels in imprinting it on enemies that the others dispatch. When he is not employed as a violent pervert, he spends him time composing bad poetry in hopes of finding an ill-suited mate.