Nerdy Show Interviews: The Cast & Creators of Your Pretty Face is Going to Hell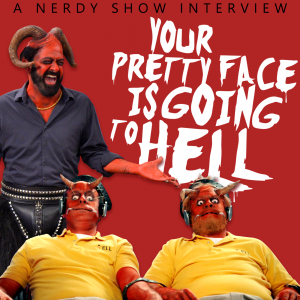 When The Nerdy Show Network's flagship podcast isn't unloading on the latest geek news and happenings, we're diving deep into super-specific discussions and interviews.
Our sins have finally caught up with us… so it's time we caught up with our favorite sinners! In this episode we're speaking with the cast and creators of Your Pretty Face is Going to Hell – Adult Swim's workplace comedy set in the underworld. To celebrate the series' third season Cap and boR are joined by Henry Zebrowski (The Wolf of Wall Street) who plays the hapless demon, Gary, Satan himself: Matt Servitto (The Sopranos) and writer/ directors Dave Willis (Aqua Teen Hunger Force) and Casper Kelly (Too Many Cooks).
When you're doing a show where red body paint is required dress code, and you're getting shat on by devils, you can bet there's some wild stories. Hear all about the exotic body parts, mushroom flashbacks, and green screen magic behind the scenes.  Even if this is your first time on the rack, this is a prefect primer for the sublime tortures of Willis and Kelly's series. Plus you'll get the answers to age old questions like can aliens go to hell? What's after Too many Cooks? And will Henry's bold concept restaurant, Foogler's, get off the ground?
Download from the player above | Subscribe via
iTunes
|
Soundcloud
|
audioBoom
|
Google Play
|
Stitcher
|
RSS
Track:
Support Nerdy Show!

Links:
Lightning Dogs Links: