Star Wars News: Say Goodbye to Ponda Baba UPDATE!
UPDATE: We spoke with Leland Chee, keeper of the Holocron and he has put to bed our deep fears – Ponda Baba's name is intact. In fact, as he told us, all names of previously established characters have been kept! Ponda Baba, Saelt-Marae, Momaw Nadon, and every other background character's names are intact, though their respective origins are still in flux. A definitive look at everything in the new canon can be seen in The Ultimate Star Wars coming in May.
Following last years' news the Star Wars Expanded Universe had been effectively dissolved, the question on many fans' minds was, "if so much of what I know no longer exists, what still does?"  In an episode of our Star Wars speculation podcast, State of the Empire, host Matt Spill gave this strange phenomena a name: The Ponda Baba Conundrum.
The idea behind the conundrum is this – if truly nothing for the expanded universe exists anymore, does that include names applied to previously existing characters after the fact? Like Schrodinger's Cat they're in suspended animation; where everything we knew about them is neither alive nor dead until confirmed. Case in point: Ponda Baba a.k.a. Walrus Man.  He's the character who loses a hand to Ben Kenobi in the Mos Eisley Cantina.  When his action figure was originally produced by Kenner in 1979  he was dubbed "Walrus Man", presumably what the character was called around the film set – much like how Slimer was called "Onion Head" during the filming of Ghostbusters.   As the Star Wars franchise graduated past tongue-in-cheek action figure names to detailed world building, Walrus Man, along with many others upgraded to respectable Expanded Universe names which were represented in all future books, action figures, and other media.
Now, via the Star Wars Celebration app, The Ponda Baba Conundrum may have been answered. One of the app's features centers around collecting exclusive pins at the event (an adopted Disney pastime) and among the list of exclusive pins for Celebration is "Walrus Man" not Ponda Boba.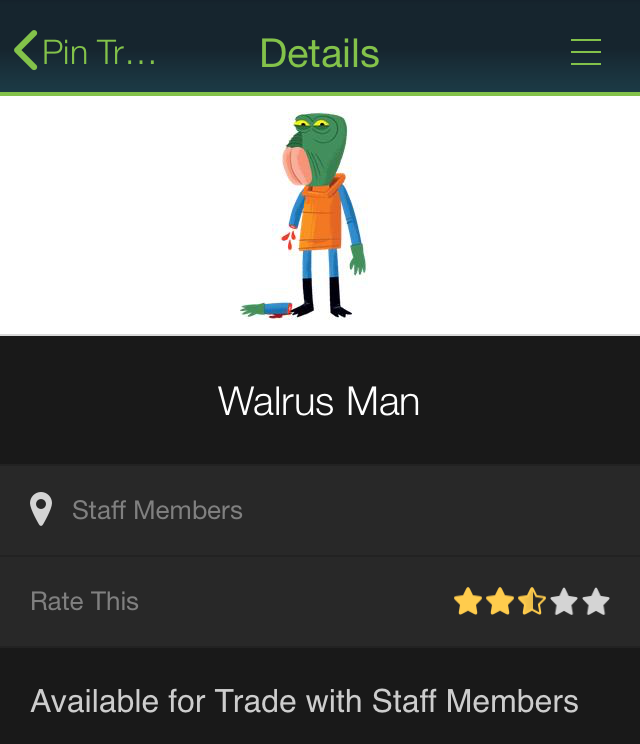 He's not alone either. Also featured in the pin list is "YakFace" later changed to Saelt-Marae and "Hammerhead" a.k.a Momaw Nadon – their formerly canonical names seemingly done away with.  There are many other eclectic characters on the list, but they're all characters whose final names were determined upon the initial release of their respective action figures such as the Ewok, Logray, and the bounty hunter 4-LOM.
Whether this name regression sticks or not is likely in the hands of any authors writing the new fiction approved as canonical by the Lucasfilm Story Group. But it would seem that for now the loss of the Expanded Universe runs deep.
UPDATE: Confirming the above update, here's the question archived on Starwars.com:

Stay tuned for more Star Wars Celebration 2015 coverage from Nerdy Show!
Are you following Nerdy Show on Twitter, Facebook, Tumblr, & Google +?
About Cat
Cat is Executive Producer of The Nerdy Show Network as well as Lead Host of the titular Nerdy Show podcast and one of the site's founders. Her illustration, graphic design, and writing both journalistic and fictitious have appeared in various publications and public spaces.