Flame On :: Episode 50 :: Over the Hill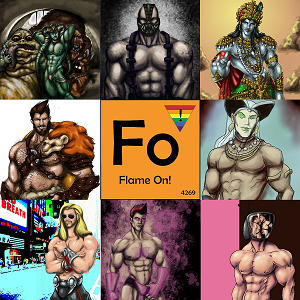 EVERYTHING IS AWESOME!! Even after 50 episodes, your favorite (mostly) gay and (completely) geek podcast are still rocking strong! Join Bryan the Bear, Eric the Muscle Daddy, Oral the Scarlet Bitch, and Jeff the Flaming Heterosexual as they discuss The LEGO Movie, the latest season of BBC's Sherlock, the fabulous end of American Horror Story: Coven, the controversy around the 2014 Olympics in Sochi, and all the latest news and excitement in the worlds of Marvel, DC, Image and the rest of the comic book publishers. Oh, and maybe a special guest appearance by that former superhero The Question (aka Joshua Yehl).
Podcast: Play in new window | Download (82.0MB)
If you like what you've heard, tell your friends or write a review about about us. Subscribe to us on iTunes. Follow us on Facebook, Twitter, and Grindr.
Track:
Everything is Awesome :: Tegan and Sara
Social Links:
About Bryan
Just a 30-something coder/musician/gardener with a penchant for all things gay and geeky. Creator/Host of the Flame ON! podcast!