Flame On :: Episode 35 :: Superman Spectacular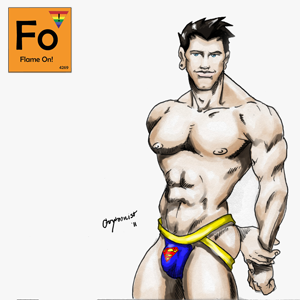 Who's a 75 year-old muscle daddy bursting out of a pair of tights and (sometimes) some red briefs? The "Big Blue Boyscout", "The Man of Steel", or, as Lois Lane likes to refer to him, "Supes", that's who! On this expansive microsode, Eric, Joshua, Oral, Bryan, and special guest Taylor sit down to discuss Superman, from his humble beginnings in comics to the his latest conflagration in the summer blockbuster Man of Steel. Then, stay tuned to the end, for our very special interview with NPR media critic and author Glen Weldon, author of the tell-all Superman: The Unauthorized Biography and fellow podcaster on the Pop Culture Happy Hour.
Podcast: Play in new window | Download (72.1MB)
Links:
Track:
About Bryan
Just a 30-something coder/musician/gardener with a penchant for all things gay and geeky. Creator/Host of the Flame ON! podcast!