Flame On :: Episode 29 :: Banned for Oral Content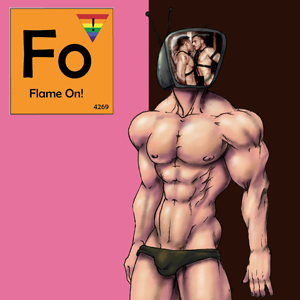 Join the Flame On! boys for a jam packed episode — now bigger, longer, and uncut! They keep you in the know on all the Marvel and DC movie news, your favorite gay and nerdy TV shows, the hottest video games out right now, and of course the numerous excellent comic books of the past month. Plus, you'll all be delighted to hear that Questions from the Question are back!
So tune in and listen to Bryan the Bear, Jarrod the Artist, Oral the Scarlet Bitch, Eric the Power Daddy, and Q the Question as they tell you what's geeky, what's gay, and what's good!
Podcast: Play in new window | Download (120.3MB)
Track:
God Only Knows :: The BEE Sharps from Bioshock Infinite
Movies
The man who brought you Hellboy and Pan's Labyrinth, Guillermo Del Toro, has revealed part of the cast for his upcoming Justice League Dark movie called Dark Universe. Marvel previews Phase 2 and gives a look at the costumes for the Winter Soldier and Falcon, plus Guardians of the Galaxy's cast continues to take shape. Jarrod reviews Evil Dead! Evangelion is being re-released as a series of four movies, two of which have already come out.
Check out our Star Wars episode!
We also touch on the passing of legendary movie critic Roger Ebert, who was a powerful and sincere voice in the entertainment world we love so much. He will be forever missed!
TV
Ru Paul's Drag Race is still in its prime and giving the boys plenty to rage about. Game of Thrones has finally returned! Get out your Westeros encyclopedia and follow along with the review. Also hear about The Following and Hannibal. To round out the TV discussion, we mourn the loss of the excellent Green Lantern: The Animated Series and Young Justice.
Questions from the Question
Sam wants to know if he should pursue a drama-filled relationship. Kevin wants to know how Superman cuts his indestructible hair. And Ben wants to know who the hottest comic book reviewer is. A couple people submitted photos, so make sure to hear what the boys think of that one.
Video Games
Disney murdered LucasArts, so hear everyone reflect on their favorite games from the former game developer. (Also note that this is where Eric reached Star Wars overload!) Bryan gives a glowing (and RACIST!) review of Bioshock Infinite, while Q goes back to Star Wars: The Old Republic on a quest for his purple lightsaber.
Gay News
The Supreme Court hears oral arguments for both DOMA and Prop 8, but really all this means is that Q and Oral will be getting drunk at a lot of weddings while wearing their groomsmen tuxes.
Comics
Hear the boys weigh in on Bukkaegate aka the SAGA GAY DICK SCANDAL aka why Saga #12 was initially thought to be banned by Apple.
Listen to our interview with Zan from queer comic publisher Northwest Press!
We dish on our favorite indie titles Saga, Locke and Key, East of West, Dios De La Muerta, Sex, and (more??) Star Wars.
Marvel NOW! gets the spotlight with Thanos: Uprising, Age of Ultron, Deadpool, Hawkeye, Guardians of the Galaxy, the X-Men titles, and all eleventy billion Avengers books!
And we finish out by discussing Gail Simone's transexual character in Batgirl, who we want the next Robin to be, and our thoughts on the latest round of New 52 releases including Andy Diggle and Tony Daniel's controversial Action Comics, Batman, Green Lantern, Green Arrow, and Earth 2.
What a mouthful, right?  Thanks for listening! Tell your friends about us (if they're cute). Subscribe to us on iTunes. Follow us on Facebook, Twitter, and Grindr.
If you have a question of any sort you'd like to hear the boys answer on Questions from The Question, hit us up on any of our social media sites or just send an email to thequestion@flameonshow.com.
About Bryan
Just a 30-something coder/musician/gardener with a penchant for all things gay and geeky. Creator/Host of the Flame ON! podcast!